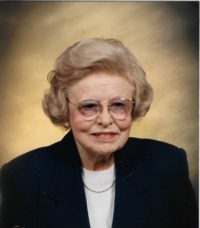 Julia Current Dobson, 95, of Durham, N.C., passed away peacefully on February 15, 2020, at Hock Pavilion in Durham after a brief illness.
Mrs. Dobson was born in Statesville, N.C., on March 8, 1924. She was the daughter of James Paul Current and Annie Marie Lackey Current. She was preceded in death by her husband, Shuford P. Dobson of Durham, and her sister, LaVonne Current Nance of Greensboro. She is survived by one son, Joseph P. Dobson of Durham and one grandson, Joseph F. Dobson of Raleigh.
Following graduation from Union Grove High School in Union Grove, N.C., and the Woman's College of the University of North Carolina at Greensboro in 1944, Mrs. Dobson worked for the North Carolina Agricultural Extension office. After her marriage and move to Durham, she began teaching Home Economics at Carr Junior High School. After teaching there for fifteen years, she moved to Githens Junior High School, where she taught until retirement. Mrs. Dobson was known for her high standard of teaching and the positive influence that she had on hundreds of students.
During her years in Durham, she was an active and loyal member of Trinity Avenue Presbyterian Church, and she also participated in numerous professional organizations, including Alpha Delta Kappa Sorority for Women Educators.
A graveside service will be held at 1:30 p.m. on Wednesday, February 19, at Snow Creek United Methodist Church in Statesville. A reception will follow the service in the Fellowship Hall.
Troutman Funeral Home of Troutman, N.C., is assisting the family.
In lieu of flowers, memorials may be sent to Trinity Avenue Presbyterian Church and Duke Hospice Hock Family Pavilion.