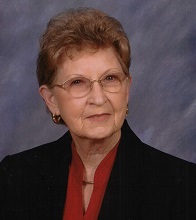 Katie Lou Overcash White, 94, of Statesville, N.C., passed away on Thursday, August 6, 2020, at Maple Leaf Health Care.
Mrs. White was born September 3, 1925, in Iredell County and was the daughter of the late Daniel Overcash and Mammie Barkley Overcash. She attended Troutman Schools and was a member of Mt. Nebo Baptist Church.
She is survived by two children, Everette Allen White and wife Treva of Troutman, and Kay White Simmons and husband John of Statesville; one grandson, John Allen Simmons; and two sisters, Jamie Overcash Howey and Colleen Overcash Fox. She was preceded in death by one granddaughter, Laura Catherine White; two sisters, Curley O. Myers, and Claire O. Blackwelder; and two brother.s, Clyde Overcash and Jim Overcash.
Graveside funeral services will be held at 11 a.m. on Saturday, August 8, 2020, at Mt. Nebo Baptist Church with Rev. Brian Eades officiating. The family will speak with friends following the service.
Memorials may be made to Child Evangelism Worship, Western Piedmont Chapter, 1239 Radio Road, Statesville, NC 28625 or Gideons International, www.gideons.org.
Online condolences may be made to the family at www.troutmanfuneralhome.com.
Troutman Funeral Home is serving the family.