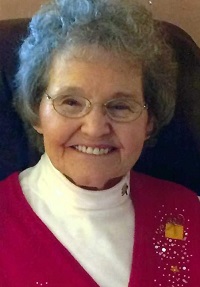 Mary Lois Lackey Kerr Lippard, 93, passed away on Tuesday, August 4, 2020 following a lengthy illness.
She was born March 3, 1927 in Alexander County, N.C., to the late John A. and Fannie Bruce Lackey.
She graduated from Stony Point School and married Thomas Loftin Kerr on December 24, 1947. They had 24 happy years together and four children. Following his death, she married Coleman E. Lippard.
Mary Lois was a member of Midway United Methodist Church, where she attended faithfully until declining health. She was a homemaker most of her life and enjoyed cooking, canning, sewing, baking and helping others. She could spend hours reading and collecting recipes.
Her family enjoyed many wonderful homemade meals and will long for a taste of her pound cake and brownies. She truly had a mother's heart and a contagious smile.
In addition to her husbands, she was preceded in death by all of her siblings: infant twin sisters; brothers, Paul, Edward "Dugan," and Jack Lackey; and sister, Hazel Lackey Estes.
Mary Lois leaves behind to cherish her memory her son, Lynn (Dorothy) Kerr of Stony Point; daughters, Kathy (Wayne) Kerr Schorle and Tammy Kerr Dowell, all of Stony Point, and Reanita Kerr Knight of Statesville; and one step-son, Joe (Patty) Lippard of Gaffney, S.C.
She further leaves behind her grandchildren, Tommy Kerr, Jennifer Knight, and Anna (Cutter) Lippard Roberts; two great-grandchildren, Dani Kerr and Logan Kerr; and sisters-in-law, Betty Lackey, Sue (Frank) Lippard Davidson, and Alene Lippard.
Mrs. Lippard will lie in state from 9 a.m. to 4 p.m. on Friday, August 7, 2020, at Bunch-Johnson Funeral Home. Heeding COVID-19 precautions, there will be no formal visitation.
A graveside service will be held at 11 a.m. on Saturday, August 8, 2020, at Midway United Methodist Church Cemetery with Rev. Ralph Lepley officiating.
In lieu of flowers, memorials can be made to Midway UMC, c/o Pat Sharpe, 286 Liberty Hill Road, Statesville, NC 28625.
The family would like to give special recognition and thanks to Jill Hayes of Wilkesboro, who took Mary Lois into her home and lovingly cared for her the past two years.
Online condolences may be left for the family at www.bunchjohnsonfuneralhome.com.
Bunch-Johnson Funeral Home is honored to be serving the Lippard family.