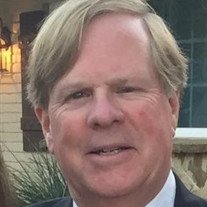 Keith Aderhold went home to be with our Lord on September 20, 2020, in Huntersville, N.C., following his brief but courageous battle with cancer.
A funeral service will be held Wednesday, September 23, at 4 p.m. at Cavin-Cook Funeral Home in Mooresville. A viewing will be at 3 p.m., with family receiving visitors at that time. For those who are unable to attend the service, you may go to the following link for the live stream: https://www.youtube.com/channel/UCiMbjN_9xXjFUkmp2zB3SMQ/featured
Born in Atlanta on July 19, 1956, he was the eldest of Jimmy and Doris' Aderhold's children. His father, Jimmy, was employed with the local railroad company, and the family lived in a number of different states during Keith's growing-up years; no doubt this was the foundation of Keith's love to travel, love of our country, and love of people. Keith never met a stranger, and could talk with anyone, always greeting everyone with a smile. Once he knew you well enough, you could count on a joke, perhaps even a bit off-color, as he had quite the sense of humor.
Graduating from West Forsyth High School in Clemmons, N.C., in 1974, he possessed an entrepreneur's spirit, engaging in several business endeavors through the years. In 2002, he founded Blue Goose Technology, which was not only a successful business but truly a life-venture, forging many lifelong friendships along the way.
He married his wife Kristi in 1994, and after residing briefly in McDonough, they made their home on Lake Norman in Sherrills Ford. An avid golfer, Keith enjoyed many, many days on courses throughout the state with cherished friends. The golf was great, but the conversation and shenanigans were even better. Years of countless treasured memories were made with family and friends on the back deck at the lake, with Kobi or Kruz always by his side, listening to his favorite music and enjoying time together. Through the years, Keith was consistently awarded the title of "World's Greatest Uncle" by he and Kristi's nieces and nephews, over-indulging each of them to a fault. Keith was dedicated to family and friends, always proving himself available when needed, no matter the day nor hour. He will be dearly missed, and always held close in our hearts.
Preceded in death by his parents Jimmy and Doris Aderhold, he will be having a wonderful reunion with them. He is survived by his beloved wife Kristi; his sister Michelle (Craig) Huston, and their children Paige (Cameron), Matt (Leann), Shannon and Craig Jr. (Linda); sisters-in-law Cheryl Austin, and her sons, Zach Goins and Ben Austin, Robin (JD) Hartman, and their children Jackson and Madelyn (Patrick); and brother-in-law Greg Blevins.
For those wishing to make memorials in lieu of flowers, the family requests your consideration of St. Jude Children's Research Hospital.
Cavin-Cook Funeral Home, Mooresville, is serving the Aderhold family. Condolences may be made to the family at www.cavin-cook.com.