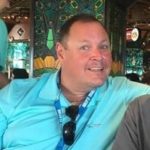 Kevin Wayne Rufty, 52, of Stony Point, N.C., died unexpectedly at his residence on Thursday, July 16, 2020. He was born in Iredell County on May 3, 1968, to the late Hugene Rufty and Linda Rinehardt Eckerd.
Kevin was employed by CommScope and was a member of the Stony Point Volunteer Fire Department. He loved football and was an avid Philadelphia Eagles fan. He enjoyed the beach and coaching softball. Kevin was a people person and loved joking and making folks laugh. More than anything else, he loved spending time with his family, whom he loved dearly.
Those left to cherish his memory are his loving wife of 32 years, Teri Lyn Kanous Rufty; two daughters, Mandi Nichole Rufty and husband Christopher Huffman and Amber Rufty Moretz and husband Daniel; a sister, Teresa Rufty; stepfather, Donald Eckard; loving mother-in-law, Pat Kanous; brother-in-law, Chris Kanous and his wife Tracie and their children, Makayla and Landon; another brother-in-law, Curt Wolfenberger and his wife JoAnna and their children, Curtis Jr. (Melissa), Devin (Pearl), Madison (Michael), Claire, Sarah, Annalise and Sophia; his fur babies, Max and Gunner; and his grand dogs, Raven and Ozzy.
A Celebration of Life Service will be held Sunday, July 19, 2020, at 5 p.m. in the Nicholson Funeral Home Chapel with Allen Huffman officiating. The family will visit with friends from 3 until 4:45 p.m. prior to the service. Due to COVID-19 and limitations on attendance, the service will be live streamed on the Nicholson Funeral Home website starting promptly at 5 p.m.
The family requests that memorials be given to the Stony Point Volunteer Fire Department, P.O. Box 146 Stony Point, NC 28678. Fond memories and condolences may be sent to the family at www.nicholsonfunerals.com.
Nicholson Funeral Home is serving the family.