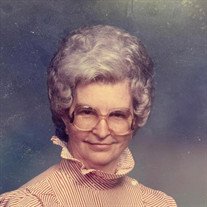 Mrs. Kitty Azalea Morrow Henderson, 83, of Statesville, N.C., died Tuesday, July 21, 2020 at her home. Born in Odessa, Fla., on September 26, 1936, she was a daughter of Marvin Brawley Morrow and Iris Fulford Morrow.
She was formerly an inspector at Rental Uniform and enjoyed travel, camping, flower gardening, sewing, dressing up and her church. She was a member of St. Marks Baptist Church.
Survivors include two sons, Max and John Henderson; a brother, Marvin Morrow; and sister, Mickey Jones.
Graveside services are scheduled for 10 a.m. on Monday, July 27, at St. Mark's Baptist Church Cemetery with Rev. Dale Milstead officiating. The family will speak with friends at the cemetery following the service.
Condolences may be sent online to the family to www.nicholsonfunerals.com. Memorials may be given to Hospice & Palliative Care of Iredell County, 2347 Simonton Road, Statesville, NC 28625.
Nicholson Funeral Home is entrusted with the arrangements.