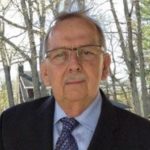 To say today is sad day is an understatement. Lawrence E. "Larry" Askew, 69, lost a battle well fought on April 29, 2020. He and wife Cheryl moved to North Carolina after raising their five boys in Chestnut Ridge, N.Y., for 38 years.
He was predeceased by his son and "best bro," Jeffrey A. Askew; mother Margaret; father William; sister Carol Stokdal; brother William Askew; brother-in-laws Douglas Malizia, Kaare Stokdal and Robert Hentschel Sr.; and nephew Richard Malizia.
He is survived by wife Cheryl Askew of North Carolina; sons Joseph of Cape Coral, Fla., Jeremy of Pearl River N.Y., Justin of Mt. Ulla, N.C., and Jordan of Chestnut Ridge, N.Y. He had a special love for his daughters-in-law, Jennifer, Nicole and Kelly. His grandchildren were the apple of his eyes, Ryan, Nate, Lily, Jaxon, Hannah and Travis. He is also survived by sister Margaret Malizia and brother Robert Askew and wife Fran, and sister-in-law Barbara Hentschel and many nieces and nephews.
Larry and Cheryl met at a battle of bands in Nanuet, N.Y., in 1967 and married in 1971. They lived a love story. He played in numerous bands early in his life playing the B3 organ and piano and guitar until just lately. His wife often teased him that the B3 was his first real love. A good bottle of wine was a pretty close second. Larry was a retired member of the Sheet Metal Workers Local Union 38, retiring in 2001 after 26 years with Carey and Walsh, Inc., Tarrytown and Briarcliff, N.Y.
The family is requesting donations in his memory made to Another Step, 706 Executive Blvd. Suite E Valley Cottage, NY 10920 (Or online at https://www.anotherstep.org)
Cavin-Cook Funeral Home & Crematory, Mooresville, is serving the Askew family. Condolences may be made to the family at www.cavin-cook.com.