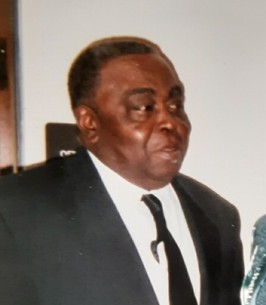 Mr. Leon Norris Keaton was born in Iredell County on May 12, 1943, and was the son of the late Esker Jack Keaton and Annie Mae Darty Keaton. He was raised by Mrs. "Moma Ola" Ola Mae Keaton Jolly. He departed this life on Saturday, February 1, 2020, at his residence following an extended illness.
He attended Unity High School and was a member of Third Creek Baptist Church. Bear, as he was affectionately called, was self-employed as an auto mechanic. He served in the U.S. Army and was Honorably Discharged. In addition to his parents, he was preceded in death by a sister, Gladys Darty.
He leaves to cherish the memory of his life his wife, Mrs. Gussie Ailene Bennett Keaton of the home; two sons, Timothy Lee (Latoyna) Keaton of Statesville and Michael (Vanessa) Keaton of Charlotte; daughter, Shelia A. Keaton of Statesville; one brother, Jerry (Lynn) Keaton of Statesville; three sisters, Paulette E. Durley, Jackie Keaton, and Maryola Keaton, all of Detroit, Mich.; two aunts, Mary Dunn of Detroit, Mich., and Ruby Wellman of Statesville; three sisters-in-law, Libby Bennett (John) Grimes, Carolyn Bennett and Denise Gilliam; brother-in-law, David (Delmethia) Bernett; grandchildren, Miquel Keaton, Antonio Dula, Cameron Caldwell, Nick Baker, Michaela Keaton, Natalia Keaton, Ajani Omarr "AJ" Keaton-Moore; great grandchildren, Rashad Keaton, Zavanna Keaton and Arilynn Dula; a special someone dear to his heart, Sandra Bennett; and a host of other relatives, cousins, friends, and church family.
In tears we saw you sinking, and watched you fade away,
Our hearts were almost broken, we wanted you to stay.
But when we saw you sleeping, so peacefully and free from pain,
how could we wish you back with us to suffer that again.
It breaks our hearts to lose you, but you did not go alone
For part of us went with you, the day God called you home.
Celebration of Life Services will be conducted Saturday, February 8, 2020, at 3 p.m. at Third Creek Baptist Church, in Stony Point, N.C., with Reverend Tommy Carpenter officiating. Mr. Keaton will remain at Rutledge and Bigham Funeral Home until taken to the church to lie in state at 1:30 p.m. Members of the family will receive friends at the church from 2 until 3 p.m., but will assemble at the residence of Mrs. Gussie Ilene Bennett Keaton, 2109 Beauty Street, at other times.
A Private burial will be held at the National Cemetery in Salisbury with Military Rites.
Visit the Book of Memories for Mr. Keaton at www.rutledgeandbigham.com.
Rutledge and Bigham is serving the Keaton family.