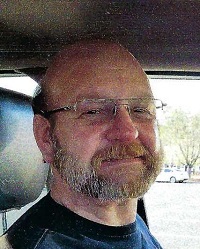 Leroy Robert Lee, 52, passed away at his home on Monday, June 22, 2020. He is survived by his wife, Alverta "Alvie" Dielman of Statesville, N.C.; stepbrothers, L. Linn Dielman Jr. of Columbia Falls, Mont.,, and Mark R. Dielman of Box Elder, Mont., first cousin Heather Carter of Terry, Mont., and niece Amanda M. Dielman of Kalispell, Mont.
Leroy was born on February 27, 1968, in Conrad, Mont., to Robert and Catherine (Carter) Lee. He was raised on a farm in the Box Elder area and was educated in the Box Elder school system, where he played football. Following high school graduation, he worked as a hired hand on a farm near where he was raised. He went from there to delivering goods for a local Havre company. In 1993 Leroy started his over-the-road truck driving career, which he continued until deciding he wanted to be home more often and started driving locally for a company in Minnesota, where he was living. Leroy retired from driving after moving to North Carolina in 2006.
Leroy loved to laugh and to make others smile. He had a very soft heart for animals, especially his cats, which he loved dearly. They will really miss him. Leroy enjoyed farming, trucking, driving his 1980 Camaro, was a University of Montana Grizzly football fan, a Minnesota Vikings fan and a NASCAR fan for many years. He made friends easily and loved his family and friends.
Our hearts are broken – Leroy will be greatly missed by everyone who knew and loved him.
Leroy was preceded in death by his parents, Robert E. Lee and Catherine A. (Carter) Dielman, stepdad Lewis. L. Dielman, sister Virginia "Ginny" A. (Lee) MacDonald, and brother-in-law James A. MacDonald.
Cremation has taken place and a memorial service will be held in Montana at a later date.
Bunch-Johnson Funeral Home has been entrusted with arrangements. Please visit Leroy's online memorial page and leave a message of condolence for his family at www.bunchjohnsonfuneralhome.com.