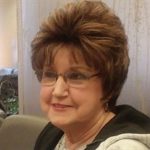 Linda Mae Rinehardt Eckard, 75, of Statesville, N.C., went home to be with her precious Lord and Savior on Friday, June 19, 2020. In doing so, she received the greatest desire of her heart, to live forever in eternity with the One who washes away all our sins by covering our sin debt with His precious atoning blood and giving us new, eternal, abundant life.
She was born on March 13, 1945, in Catawba County to the late John Ray Rinehardt Sr. and Martha Louise Bumgarner Rinehardt. She was also preceded in death by a brother, John Rinehardt Jr. ("Bud"), and an infant sister, Beatrice Rinehardt.
Linda loved the Lord with all her heart, mind and soul as the scripture Matthew 22:37 states, Jesus replied: "'Love the Lord your God with all your heart and with all your soul and with all your mind." Linda was a media church member for Jimmy Swaggart's Ministries. Jimmy Swaggart Ministry was a huge part of her life. She was so full of God's unconditional love to everyone she met. She was always passionately taking care of her family, church, friends and the elderly. She loved her family and treasured each of them. She lived a life of great sacrifice to always better the lives of others with an unstoppable determination and faithfulness. She had an incredible supernatural wisdom and discernment that was just totally priceless. She lived a very genuine and pure life. She was always giving the best advice, which was always the truth, an honest answer, even if it brought offense. The truth is hard to hear sometimes but when accepted it yields great results! She was a mighty prayer warrior. Everything she did she gave it her absolute all and best. She had to do it to perfection – there was no other way. She has lived her life giving her very best; now God is giving her His very best.
Many lives will be forever touched and changed due to her powerful Godly influence. She will be profoundly and greatly missed by all who knew her sweet and gentle spirit. But she will be eternally reunited again with each one that makes Jesus their personal Lord and Savior and Heaven their home. Linda will always be remembered as a virtuous woman and known as Beautiful, Faithful and True.
Those left to cherish her memory include her husband of 25 years, Donald Leroy Eckard; a daughter, Teresa Rufty; a son, Kevin Rufty (Teri); four grandchildren, Kristen Sha Conley (Jamey Roberts), Justin Bryan Conley, Mandi Rufty (Chris Huffman), and Amber Moretz (Daniel); a great-grandson, Liam Michael Roberts, who will be born in August; and sisters, Elsie Rae Eckard and Mildred Faye Cash.
A Graveside Service will be held Tuesday, June 23, 2020, at 11 a.m. at Providence Memorial Cemetery in Catawba with Pastor Greg Justus officiating. She will lie in state at the funeral home on Monday from noon until 5 p.m.
Memorials may be given for furthering the work of the Lord to Propel Family Ministries 272 Branchwood Road, Statesville NC 28625. Online condolences may be left at www.nicholsonfunerals.com.
2 Timothy 4:7 — I have fought the good fight, I have finished my course, I have kept the Faith.
Psalm 16:11 – Thou wilt shew me the path of life: in thy presence is fulness of joy; at thy right hand there are pleasures for evermore.
Nicholson Funeral Home is serving the family.