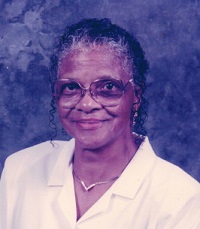 Mrs. Lizzie Mae Moore Byers was born on December 19, 1927, in Mooresville, N.C., to the late Inez Scott Moore and Joseph Moore Sr. She departed this life at the Citadel of Mooresville on Wednesday, March 31, 2020, following an extended illness.
Lizzie Byers was a faithful member of St. Paul United Methodist Church, where she served as an Usher, Communion Stewart, and a member of the Trustee Board. Her favorite hobbies were fishing and cooking for her family members and the community before becoming disabled. She was united in marriage to Thomas W. Byers, who preceded her in death.
In addition to her husband, she was preceded in death by her son, Robert Lee Byers; a grandson, Aaron L. Byers; her brothers, Lester "LM" Moore, Billy Moore, and Gomez "Butch" Moore; a sister, Joann Moore; and a sister -in-law, Gertrude Moore.
Lizzie leaves to cherish the memories of her life two sons, Bishop Joe T. (Overseer Virginia) Byers of Troutman, N.C., and Pastor J.C. Byers of Statesville, N.C.; three daughters, Ella (Walter) Graham of Troutman, Mary Lois Walker of Troutman and Juanita (Rev. Luke) Witherspoon of New Jersey; two brothers, Joseph Moore Jr. and Benny Ray Moore, both of Troutman; two sisters-in-law, Elizabeth Moore and Mary Elizabeth Moore, both of Troutman; grandchildren, Jonita (Keith) Phifer, Joe T. Byers Jr., Paulette Byers, Priscilla (Kermit) Lowe, Debbie Young, Baquita (Randy) Ikard, JC (Lucruita) Byers Jr., Isaac T. Byers, Freddrick L. Byers Jr., Robert L. Byers Jr., and Marcus Byers; a host of great-grandchildren, nephews, nieces, cousins, other relatives and friends, including special friends, Baquita "Stinker" Graham and Mary Elizabeth Moore.
Funeral service for Mrs. Byers were held on Saturday, April 4, 2020, at Living Waters Ministry in Troutman with Pastor Jeffery Wallace will officiate and Bishop Joe T. Byers will eulogize. Burial will follow in the St. Paul United Methodist Church Cemetery.
Rutledge & Bigham Funeral Home is serving the family.