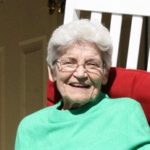 Lois Fulbright Waugh, 92, of Statesville, N.C., died Thursday, March 19, 2020, at The Gardens.
She was born in Iredell County om July 4, 1927, to the late Walter and Edmona Drum Fulbright, who were better known in the community as Dad and Mom Fulbright. She was also preceded in death by her husband, John Perry Waugh.
Mrs. Waugh was a member of Marvin UMC. She gave the gift of Jesus to those around her and was a faithful servant of the Lord. She loved cooking, sewing, quilting, gardening and especially taking care of her family and those in the community. She always had a smile on her face.
Those left to cherish her memory include three sons, Dale Waugh (Birdell) of Hudson, N.C., Tony Waugh (Susan) of Statesville, and Terry Waugh (Donna) of Stony Point; four grandchildren, Rodney Waugh, Amy Gryder (Marcus), Kendayl Cline (Josh), and Trey Waugh (Katelyn); eight great-grandchildren, Bailea and Kylie Waugh, Kara and Sophie Gryder, Holly and Wade Cline, Kamlyn and soon-to-be Jackson Waugh.
Graveside services will be held Sunday, March 22, 2020, at 3 p.m. at Marvin UMC with Pastor Anne Tavenner, Jeff Carson and Rev. Brian Burgess officiating. Mrs. Waugh will lie in state at the funeral home Saturday, March 21, 2020, from noon until 5 p.m.
The family would like to give special thanks to the Staff at the Gardens and to Hospice and Palliative Car of Iredell County for the love and care given to Mrs. Waugh.
In lieu of flowers, the family requests that memorials be made to Marvin UMC, 671 Marvin Church Court, Stony Point, NC 28678 or to Hospice and Palliative Care of Iredell County, 2347 Simonton Road, Statesville, NC 28625.
Fond memories and condolences may be left at www.nicholsonfunerals.com. Nicholson Funeral Home is serving the Waugh family.