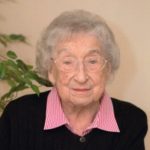 Louise Mills Taylor passed away peacefully at Gordon Hospice House on November 21, 2019. Mrs. Taylor was born in Statesville, N.C., on April 12, 1925.
She was the daughter of the late Oscar R. and Bettie Baker Mills. She was a member of the First Baptist Church and Lydia Sunday School Class. Louise was a charter member of the Women's Civic Club, serving as president for several years. She received her 50-year membership pin at the GFWC-NC Convention in 2002. She was a retired tax clerk and secretary with the Iredell County Tax Supervisor's Office. Louise graduated from Statesville High School. She also took numerous tax courses at the Institute of Government at the University of North Carolina in Chapel Hill, N.C.
While growing up, she liked to go to her dad's business, Mills Electric Shop. He taught her to make and repair lamps, which she enjoyed doing all of her life. She continued to work with him until his death. One of her greatest joys was making homemade decorative candy. Through the years, she made over 10,000 pieces of candy for family and friends.
She was married on December 12, 1952, to Dewey William Taylor Sr., who passed away on September 9, 2016.
Survivors include one daughter, Laura Louise Taylor den Boer and son-in-law David of Cypress, Texas, and her granddaughter, Dr. Emily Louise den Boer Mackie of Austin, Texas. Aunt Sissie is also survived by many loving nieces, nephews, great nieces, great nephews and great-great nieces and nephews.
She was preceded in death, in addition to her beloved husband, by her son, Dewey W. Taylor Jr., her brothers, John L. and Col. O.R. Mills Jr., sister-in-law, Elizabeth Click Mills and her sister, Elizabeth Mills Brand.
Funeral services will be at the First Baptist Church Sanctuary on Saturday, February 8, 2020, at 1 pm. The family will greet all guests after the service. A private graveside service for the family will follow at Oakwood Cemetery.
In lieu of flowers, please send your gifts to either the First Baptist Church, 815 Davie Avenue, Statesville, NC 28677 or to Gordon Hospice House, 2341 Simonton Road Statesville, NC 28625.
Online condolences may be left at www.bunchjohnsonfuneralhome.com.
Bunch-Johnson Funeral Home is honored to be serving the Taylor family.