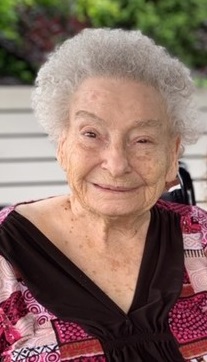 Louise Overcash Menscer, 93, of Troutman, N.C., passed away, Sunday, April 26, 2020, at Heritage Place. Ms. Menscer was born February 14, 1927 in Iredell County and was the daughter of the late James Lewis Overcash and Linney Mae Freeman Overcash.
She graduated from H.F. Long Hospital with her RN degree and worked for Iredell Memorial Hospital, Dr. Dunn and Iredell County School System. She also taught nursing classes at Mitchell Community College, then she worked at Hill Haven Nursing Home and retired from the Brian Center. She was a loving mother and Granny to her children and grandchildren.
She is survived by two children, Marvin Russell "Rusty" Menscer Jr. (Rebekah) and Melanie Murdock (Pat); three grandchildren, Shannon Hedrick (Chris), Paul Murdock (Jennifer), and Lauren Brown (Andrew); and six great grandchildren, Christian Hedrick (Kristy), Timber Hedrick, Haley Murdock, Austin Murdock, Ben Brown and Mackenzie Brown. She was preceded in death by two brothers, James and Gilmer Overcash, and one sister, Florence McIntyre.
Graveside funeral services will be held at 2 p.m. Thursday, April 30, 2020, at Old Providence Presbyterian Church with Rev. Jeffery Bumgarner officiating.
The family would like to give a special thanks to Evan and all the girls at Heritage Place for their love and care.
Memorials may be made to Help Ministries c/o Holy Trinity Lutheran Church and Community Hospice of Winston-Salem. Online condolences may be made to the family at www.troutmanfuneralhome.com.
Troutman Funeral Home is serving the family.