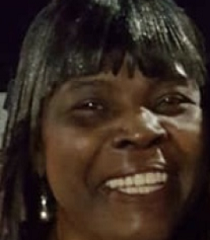 Lucille Moss Morrison of Statesville, N.C., was born on September 30, 1957, and departed this life on Saturday, September 12, 2020, at Gordon Hospice House after complications from an extended illness.
Lucille was a graduate of Statesville High School and attended Mitchell College, where she completed courses to obtain her CNA & Med Tech certifications. She was employed as a CNA Supervisor at MapleLeaf for many years. She was a faithful member of Greater Lilly's Chapel Commandment Keeper's Church of the Living God, where Overseer Barbara Imes is the pastor. Lucille was a praiser who always rose to tell God "Thank You" every chance she had. She was preceded in death by her husband Leonardo Morrison.
She leaves to cherish her memory her mother, Louise Moss-McCorkle of Statesville; four children, Terry Moss, Marcus (Angela) Moss, Bobby (Debra) Moss, all of Statesville, and Lamesa (Jermaine) Robinson of Salisbury, N.C.; grandchildren, Jaylen Linney, Trinity Moss, Kyla Moss, Tyrez Moss, Travis Campbell Jr., Bobby Moss Jr., Devin Moss, Jacari Moss and Marquis Davis; three brothers, Elmo Moss and Bobby Moss of Charlotte, N.C., and Bennie Moss (Dara) of Statesville; three sisters, Ruth Frazier, Shirley Graybrown and Mary (Steve) Kimbrough, all of Statesville; great aunt, Goldie Allen White of Kannapolis, N.C.; uncle, George Moss of Kannapolis, N.C.; and a host of nieces, nephews, friends , extended family, church family and Mookie, her beloved miniature yorkie.
Celebration of Life services will be held at Greater Lilly's Chapel, Statesville, N.C., on Wednesday September 16, 2020. The family will receive visitors from 12 to 1 pm. Services will begin at 1 p.m. Elder Keith Williams, officiating. Overseer Barbara M Imes, eulogist.
Rutledge and Bigham Funeral Home is serving the family.