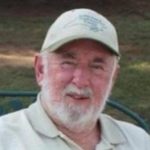 Luther L. "Renny" Holton Jr., 75, of Statesville, N.C, passed away Tuesday, April 7, 2020, from complications of Parkinson's Disease.
Renny was born March 22, 1945, in Iredell County to Luther "Buster" Holton Sr. and Lucille Dobson Holton. He was a graduate of Cool Springs High School and UNC State College in Raleigh. He was also in the Army Reserve. On September 1, 2001, he married Carol Wooten, who survives.
He was a member of Clarksbury United Methodist Church. He retired from the United States Post Office as a rural carrier after more than 30 years. He also worked at Tractor Supply of Statesville and was a retired volunteer fire fighter with the Cool Springs Fire Department. He loved to farm.
In addition to his wife he is survived by three step-daughters, Kelly Cansler Moore (Tim) of Calabash, N.C., Tricia Cook Spry (Eddie) of Cooleemee, N.C., and Christie Cook Shore (Phillip) of Mocksville; four grandchildren, Karen Spry Logan (Cody) of Mocksville, Joseph Spry of Cooleemee, and Mathew Glass and Austin Glass of Mocksville; one great-grandson, Bentley Logan; two brothers, Tommy Holton and Jeff Holton of Statesville; and a sister-in-law, Mary Holton. He is also survived by two nephews, Johnny Holton of Statesville and Jeff Holton of New York; and a niece, Kate Holton. He was preceded in death by a brother, John Holton, and his parents.
Special thanks go to a good friend, Kenny Williams, and the Mountain Valley Hospice staff.
Due to the restrictions caused by the coronavirus, a memorial service will be held at a later time.
In lieu of flowers memorials may be made to Clarksbury UMC, 924 E. Memorial Highway, Harmony, NC 28634 or to Mountain Valley Hospice, 243 N. Lee Avenue, Yadkinville, NC 27055.
Fond memories and condolences may be left at www.nicholsonfunerals.com. Nicholson Funeral Home is serving the Holton family.