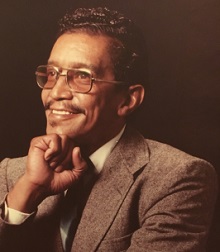 Mr. Mantheo Wellman was the youngest son of Chal and Carrie Wellman of Statesville, N.C. His parents had eight children, six boys and two girls. Mr. and Mrs. Wellman were members of Third Creek Baptist Church in Stony Point, N.C.
As the children grew up, Mantheo joined Clark's Chapel Baptist Church at age eight, so he was a longtime member. He and his wife, Versie Neel Wellman, enjoyed being members of the Senior Choir.
Mantheo graduated from Unity High School in Statesville and Knoxville College in Knoxville, Tenn. While at Knoxville College, he was a member of the Knoxville College Male Quartet. After graduating, he began teaching in elementary school education in Knoxville.
He accepted a teaching job in Norfolk, Va., in elementary education, then he moved onto teaching elementary education at the Norfolk Division of Virginia State College, now Norfolk State University, in 1963. He was inspired by his father-in-law to become a member of Kappa Alpha Psi Fraternity Inc. after marrying the late Margaret Ward.
When Mantheo's marriage ended with the late Margaret Ward Wellman, he returned to Statesville and then married his childhood sweetheart, the late Versie Neel Templeton of Troutman, N.C. They traveled, worshipped and loved for over fifty years.
He was a loving kindred spirit, who will surely be missed by many family and friends.
He leaves to cherish and remember the blessing of his life his daughter, Matoakee S. Wellman of Chesapeake, Va.; one son, Terry G. Wellman of Chesapeake, Va.; a grandson, Christopher Peyton Wellman of Virginia Beach, Va.; nephews, Lonnie G. Mayberry of Statesville, and Johnnie Edward Wellman and Kevin Wellman, both of Philadelphia, Pa.; a niece, Sonya Lucky of Troutman, N.C.; and a host of great nieces, great nephews, cousins, godchildren, church family and dear friends.
Rutledge and Bigham Funeral Home is serving the family.