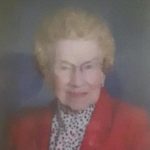 Marianna Holton, 95, of Statesville, N.C., died on Good Friday, April 10, 2020. She was born in Statesville on August 28, 1924, and grew up there and in the Cool Spring community of Iredell County, the youngest daughter of Millard Blaine Holton and Jettie Harmon Holton. In addition to her parents, she was preceded in death by her brothers, Millard Blaine Holton Jr. and Elbert Holton, and sisters, Lucille H. Boggs and Vera H. Gilleland.
Marianna graduated from Cool Spring High School and attended Mitchell College. Her working career spanned more than sixty years, with three different employers, and more than fifty years at G. L. Wilson Building Company. She was a faithful member of Race Street Methodist Church and Broad Street United Methodist Church. She loved her Bible Class and BPW.
She was a second mother to her sister Vera's children and a second grandmother to their children. She was a beloved sister, sister-in-law, aunt, cousin and friend to many and was a devoted daughter to her mother, living with and caring for her mother, who was widowed for 37 years.
Marianna spread much joy and kindness to others through her personality and actions, and she loved children. In the last decade of her life, she developed a special bond with her primary caregiver, Eutrice Foster, and received loving care from a team of devoted caregivers, which allowed her to remain in her home. Eutrice and her son, Cody, became part of Marianna's family, and Marianna passed away in Eutrice's arms.
A memorial service at Broad Street Methodist Church, featuring hymns of Marianna's choosing, will be held on a date to be later announced. In lieu of flowers, memorial gifts may be made to Iredell Christian Ministries, P. O. Box 86, Statesville, NC 28687 or Broad Street United Methodist Church, P.O. Box 169, Statesville, NC 28687.
Online condolences may be made at www.nicholsonfunerals.com.
Arrangements are being handled by Nicholson Funeral Home of Statesville.