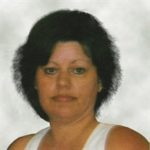 Winona "Nonie" Mae Trivett Miller, 55, of Kannapolis, N.C. passed away Saturday, April 11, 2020, at the Accordius Health at Salisbury. Nonie was born in Bristol, Tenn., on March 30, 1965, to the late Roby Jr. Trivett and Sue Glover.
She attended Iredell County Schools and she was married to Charles Scott Miller, who preceded her in death on July 11, 2018. Nonie was a member of Rose Chapel United Methodist Church and she was a homemaker.
Left to cherish her memory is her son, Eric Miller (Hailey Mounce) of Elkin; along with two brothers, her twin Toby Trivett (Dora) of Mooresville and David Trivett (McKenna) of Olin; and two sisters, Connie T. Hatcher (Jeff) of Mooresville and Charlotte T. Holland (Marty) of Olin. She is also survived by her best friend and caregiver, Kathy Trivett of Kannapolis, and a host of nieces, nephews and extended family.
Due to the current COVID-19 restrictions, there will be a graveside service to honor the life of Nonie Miller at 2 p.m. on Thursday, April 16, 2020 in the Rose Chapel UMC Cemetery.
Memorials may be made to the Rose Chapel UMC, 813 Turnersburg Highway, Statesville, NC 28625.
Online condolences can be made to the family at www.nicholsonfunerals.com.
Nicholson Funeral Home has the honor of serving the family of Nonie Miller.