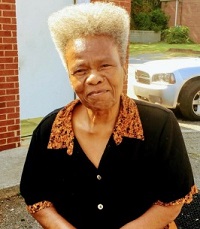 Mrs. Martha Ann Steele Allison, aka "Memaw," was born on December 21,1943, to the late Augustus and Lizzie Steele. She gained her wings on Saturday May 2, 2020, at the age of 76 at home surrounded by her children and Pastor Brooks following an extended illness.
She grew up in Harmony, N.C., and attended Unity High School. She graduated, and in 1961 she married Willie Allison, who preceded her in death, along with a daughter Pauline. She worked at South Iredell High School for many years. She owned her own cleaning services for several local doctors and dentists, then later gained employment at Zimmer's Patient Care, where she retired.
Memaw was a devoted sister, loving wife, magnificent mother and loyal friend. She was an avid animal lover, canner and gardener. She also loved doing ceramics and crafts. She loved traveling around the world and driving fast and furious cars with talking motors. Her motto was that she can only drive one way: Fast. She loved teaching her grandchildren and daycare babies their letters and colors and shapes with a deck of playing cards. That was her real hobby and singing her legendary made up song, " _______ is my baby when ______ is not around ha-cha do-ha cha do, ha cha do, do," which has become a tradition to our family that will passed on for generations to come.
She was a mother to many and would open her doors, arms and heart to all. They called her home a safe haven for all who entered.
Memaw is survived by five children, Enez (Andre) Blount of Raeford N.C., Joetta (Donald Ray) Bines, Willie Allison, and Markus Allison, all of Statesville, and Charlene Allison of Stony Point. She has 25 grandchildren, 30 great-grands, and her honorary grandchildren Kaleel Burke, Kamdom Gillespie, and Raven White. Also, children she helped raise as her own whom called her mama: Matthew Dixon, Chris Henderson, Chris Leaviner and Polly Thompson. Special nephews are Charles Steele Jr. and Jimmy Steele and devoted niece Janice Steele.
She is survived by five brothers, Clarence Steele, Dallas (Irene) Steele, John (Dorothy) Steele, Jimmy Steele and Charles Steele. She has three sisters-in-law who survive her, Janet Steele, Mildred Allison, and Carolyn Knox. Nine siblings preceded her in death, plus her three sisters-in-law, Carolyn Steele, Dorothy Steele, and Rosalyn Steele.
Martha leaves to cherish her lifelong friends Margaret Tenner, Lydia Wilson, Paula and Leonard Gabriel, Lozona Tate, Linda Knox, Barbara Allison, Jennifer Clifton, Johnna Myers and Brenda Miller, and a multitude of nieces, nephews, cousins and friends.
If you every crossed her path you can truly say that you were blessed by her presences with many smiles to come.
Rutledge and Bigham Funeral Home is serving the Allison family.