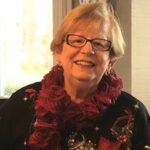 Antonette "Toni" Packs Hutin, 93, of Davidson, N.C. passed away peacefully on Saturday, May 2, 2020. Toni was predeceased by her husband of 57 years, Albert (Al) V. Hutin Jr. , and is survived by daughters, Cheryl Hutin Davis (Christopher) and Piper H. Olsen (John); brother-in-law, Charles T. Hutin; grandchildren, Colin Rink and Michael Olsen, and step-granddaughters Jessica Lavery, Melissa Lavery and Conner Davis. Toni was predeceased by her sister Ann Packs Alexander and her twin Nicholas Packs. Her siblings' children, Louis Alexander, Eugenia Nichols (Gary), Margo Alexander (Peter Burgevin), Alexis Alexander, John Packs (Marion), Michael Packs, and Steve Packs (Patti), grew up knowing "Aunt Toni" as a special, fun aunt who they often describe as "a woman before her time." Growing up in a very traditional Greek household, Toni broke from tradition and carved her own path.
Toni was born April 14, 1927 in Hackensack, N.J., to the late John Packs and Margaret Soteropoulos. Toni was the first generation of her family to be born in the U.S. She was raised in Endicott, N.Y. Toni graduated from Syracuse University in 1949 with a BS in Fine Arts and went on to Columbia University to obtain a Master's degree in Education. From 1958 to 1960, Toni worked as a civilian for the Army in Germany as a Craft and Photoshop Director, until Al asked her to meet him in Paris, where he proposed. Toni and Al raised their family in Chappaqua, N.Y., and lived there for more than 60 years. In May of 2017, Al and Toni moved to North Carolina to be closer to their daughters. Prior to having children, Toni taught at the St. John's and St. Mary's parochial school and continued to serve her parish there by creating banners for the church, helping to lead the annual Christmas Art Fair and more. Toni was a teacher in the Chappaqua school district for more than 30 years – teaching art in both Horace Greeley High School and Robert E. Bell Middle School. Toni served many years supporting the New Castle Historical Society as their exhibit coordinator and art director. In 2016, the Westchester County Board of Legislators declared October 16 to be "Toni Hutin Day." After moving to Davidson in 2017, Toni became an art teacher again at her home residence, Williams Place. Toni was a bright light making friends wherever she went. Before passing, she shared words of wisdom saying, "Be accepting of and kind to everyone you meet, they might have something to teach you."
Toni was born Greek orthodox and converted to Catholicism when she married and attended the church of St. John's and St. Mary throughout her residence in Chappaqua.
A service will be held in Chappaqua, N.Y., when travel restrictions are lifted and arrangements can be made.
In lieu of flowers, memorials may be made to New Castle Historical Society, 100 King Street, Chappaqua, NY 10514 or Hospice and Palliative Care of Iredell County, 202 Williamson Road, Mooresville, NC 28117.
Cavin-Cook Funeral Home and Crematory, Mooresville, is serving the Hutin family. Condolences may be sent to the family at www.cavin-cook.com.