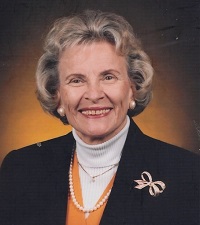 Mrs. Mary Helen Holmes Walker, 95, of Statesville, N.C., passed away peacefully at the Gordon Hospice House on January 22, 2020, after living a full and healthy life.
Mary Helen was born on January 9, 1925, in Statesville, and was the daughter of the late James Cleveland Holmes Sr. and Katherine Louise Lankford Holmes.
She was an active member of First Presbyterian Church, where she sang in the church choir for 54 years, and was also a member of the SHS Glee Club. She was also formerly chairwoman of the Church Circles, Treasurer of Women of the Church, and served on numerous other committees as well.
She had many jobs in Statesville after graduating from Statesville City Schools, including working as a bank teller at Merchants and Farmers Bank, as a bookkeeper at Statesville Truck and Tractor and with her late husband, James E. Pharr Sr., she owned and operated Jimmy Pharr Men's Wear in downtown Statesville. Initially planning to be the bookkeeper, she successfully ran the store herself after her late husband become disabled. Her many experiences with bookkeeping and numbers enabled her to continue her favorite bridge games with her good friend Becky Dickerson until just last month.
She graduated from Mitchell College and continued her education at Richmond Professional Institute (now Virginia Commonwealth University) in Richmond, Va., where she graduated in 1946. She was a music major and sang in many programs, theater productions, weddings, and college choruses. She also was a high school and college cheerleader.
In addition to music, she enjoyed yard work, vegetable and flower gardening with Ike Skinner, and canning — often giving away many pickles, tomatoes, okra, and jams to her many friends and neighbors. She and her late husband, Dr. Harry G. Walker, traveled all over the world and enjoyed numerous vacations in many far-away places, as well as America's National Parks. She once even rode on the back of a camel.
Her remarkable and versatile life also included building four houses, personally drawing the plans, hiring the contractors and carefully overseeing each step. She sold three of them herself as well as the family clothing store. Determination, work, preparation and Faith attributed to her ability to achieve so much.
Her compassion and attentiveness while attending to her parents and her mother-in-law in their later years alerted her to the need for caregivers to have an occasional break and she was instrumental in being one of the founding Board members of the ElderCenter in Statesville. She also volunteered for the American Red Cross Bloodmobile, Junior League and was a Woman of the Year recipient for Sigma Beta Phi Sorority in 1988.
Her accomplished life was topped by a pride, love and devotion to her children, grandchildren and great-grandchildren, relatives and countless friends.
Survivors include her children, James E. Pharr Jr. (Ida) and Kathy Osborne (Doug). She was preceded in death by a third child, Nancy Holmes Pharr, age 17.
Her grandchildren are Elisa Greene (Kent), Josh Bowling (Joni), James (Trey) Pharr III, Aaron Safford, Kameron Chiljean (Dan) and Shelly Gerteisen (Quint). She also has 15 great-grandchildren, one sister, Barrett Holmes Bradford, and was preceded in death by her other siblings, Nanearle Homes Loftin (Ralph), James C. Holmes Jr. (Mary Brown) and Peggy Holmes Owen. She is survived by numerous nieces and nephews and one brother-in-law, William (Bill) Owen Sr.
A funeral service will be held at First Presbyterian Church on Monday, January 27, 2020, at First Presbyterian Church at 2 p.m. with Rev. Grant Sharp and Rev. Ed Boyce officiating. A visitation for family and friends will immediately follow the service at the church.
Memorials can be made to First Presbyterian Church or the ElderCenter of Statesville. Her family would like to thank the many people and friends who assisted with her, including the staff at Brookdale-Peachtree, the Gordon Hospice House, and the members of First Presbyterian Church who transported her back and forth for many years.
Online condolences may be made to the family at www.troutmanfuneralhome.com
Troutman Funeral Home is serving the family of Mrs. Mary Helen Walker.