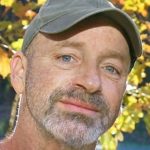 Stephen Thomas Blackstock, 59, of Statesville, N.C., ran into the arms of Jesus on Wednesday, January 22, 2020, trusting confidently in God's promise "Behold, I am making all things new." Steve fought a valiant battle with a very aggressive cancer.
He was born on September 15, 1960, in Miami, Fla., and was the son of Claudia Chase Blackstock and his father, the late George Marshall Blackstock. Steve is survived by the love of his life, Jo-Ann Forehand Blackstock, and his two adult children, Jessica and Jacob. In addition to his immediate family, he will be missed by his Blackstock siblings; two brothers and four sisters; his brothers- and sisters-in-law, and many loved nieces and nephews.
Steve and Jo-Ann are co-owners of Drive Right Auto Sales, which has faithfully served the Statesville community for over 12 years. In addition to his passion to help people through their business, he also loved spending time with his family and friends. He enjoyed gardening, boating and Jamaican vacations with his wife. Steve's joy for life was infectious and touched everyone he met. He was a friend to everyone and had a heart to help others however he could. Life was more fun when you were with Steve. Our lives are richer because he was, and always will be, in our hearts and lives.
For many years he served as a leader and ministered in many capacities at Holy Trinity Lutheran Church. He then served as one of the leaders to help start a new church in Mooresville.
The family will receive friends Friday evening, January 24, from 5 to 7 p.m., at Holy Trinity Lutheran Church in Statesville. A celebration of his life in Christ will be held at the church beginning at 2:30 p.m. on Saturday, January 25. Interment will follow at Oakwood Cemetery.
In lieu of flowers, memorials may be made to Hospice and Palliative Care of Iredell County. The Blackstock family extends their deepest gratitude to the staff of Hospice and Palliative Care for their loving care for Steve in his last days.
Online condolences may be left at www.bunchjohnsonfuneralhome.com.
Bunch-Johnson Funeral Home is honored to be serving the Blackstock family.