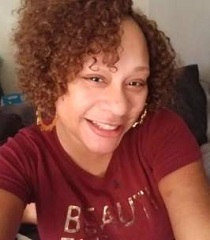 Meshia Kifha Howard of 1012 Park Drive, Statesville, N.C., was born in Iredell County on March 20, 1980, and was the daughter of David "Brown" Mott and Angela Faye Howard Holmes. She departed this life unexpectedly at her home on Thursday, April 23, 2020.
She attended Statesville High School and at one time was employed by Elmer's. She was preceded in death by an aunt, Ardell Von Howard; a cousin, Santana Wright; and her grandfather, Hosea Howard.
In addition to her mother, Angela Faye, and her father, David (Natalie) Brown Mott, she leaves to cherish the memory of her life her fiancé, Eric S. Thibou of Statesville; ten children, Antaniqua Smith of Winston-Salem, Kadeya Howard of Statesville, Derrion Turner of Raleigh, Shi'Vontae Howard, O'Marion Howard, Eryana Howard, Eric Thibou Jr., Erica Thibou, Shakai David Mott and Egypt Thibou, all of Statesville; four brothers, Tony Moten, Tim (Aleshia) Moten, Samuel DuPrese Saddler and Mario Caldwell, all of Statesville; three sisters, Phatara Howard, Jane (Eric) Wilson and DaShonn Knox, all of Statesville; her grandmother, Alice Clark Howard of Statesville; her aunts, Tabitha (Patrick) Clyburn, Sandra Summers, Lois Dawkins, Linda Hammons and Rosetta Smyre.
Celebration of Life Services will be conducted Wednesday, April 29, 2020, at 2 p.m. Bishop Ralph Wood will officiate and burial will follow in the Shepherd Church of God Cemetery in Mooresville.
There will be no public visitation. Unfortunately, with the COVID-19 outbreak, Rutledge and Bigham Funeral Home, along with other funeral homes across the country, has been issued a mandate to limit the number of family and/or friends at funeral services. You can only enter the funeral with a funeral pass, which will be given to the family.
To view the service online, visit Bernardeane's Facebook Page.
Rutledge and Bigham Mortuary is serving the Howard family.