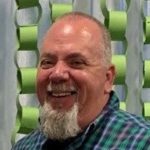 Michael Robert Turgeon, 52, of Statesville, N.C., passed away on Tuesday, April 14, 2020, at Iredell Memorial Hospital in Statesville. Born June 2, 1967, in Highland Park, Mich., he was a son of the late Diane Louise Shaw.
Michael was a truck driver for Red Dirt Road. He was a member of The Cove Church, Statesville, where he was head of the Safety Team. Michael was a family man, loving husband and enjoyed spending time with his children and grandchildren. He loved loud music, coffee and guns.
He was preceded in death by his grandparents, Alfred and Florence (Chalk) Turgeon. Michael is survived by his wife of 30 years, Cynthia Henderson Turgeon; children, Michael Turgeon (Trinity), Stephanie McKinley (Matthew) and Brittany Faulk (Kevin); brother, Tony Turgeon (Tabitha); sisters, Bonnie Crider (Michael) and April Shaw; grandchildren, Kaitlyn Johns, Elijah Turgeon, Joseph Faulk, Allison Faulk, Logan Faulk, and Maverick Faulk; and great grandchildren, Jayden and Greyson.
A Memorial Service will be held on Saturday, April 18, 2020, at The Cove Church, Statesville, with Rev. David Porter Officiating. In lieu of flowers, memorials may be made to The Cove Church, 935 Crossroads Drive, Statesville, NC 28625.
Cavin-Cook Funeral Home & Crematory, Mooresville, is serving the Turgeon family. Condolences may be made to the family at www.cavin-cook.com.