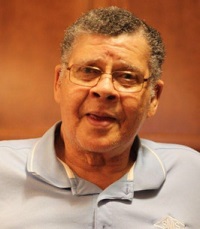 Mr. Robert Lee Johnson, 74, of 820 Shillington Lane, Statesville, N.C., was born in Iredell County on May 17, 1943, and was the son of the late Arthur Johnson and Mary Kimbrough Johnson. He departed this life on Sunday, April 12, 2020, at Gordon Hospice House following an extended illness.
In addition to his parents, he was preceded in death by a son, Brian Johnson; two brothers, Edward Johnson and Nate Johnson; and a sister, Dorothy Kaplin. He was once married to Sandra Roland, who preceded him in death.
Mr. Johnson was a 1961 graduate of Unity High School and received an Associates Degree from Mitchell College. He was a member of Statesville Seventh Day Adventist Church and at one time he was employed by Mitchell Community College in the Maintenance Department.
He leaves to cherish the memory of his life three daughters, Franita (Raymond) Roland of Asheville, Kim Johnson and Mary Johnson (Charles) McCline, both of the home; his grandchildren, Jamica (Michael) Lyles of Ashesville, Chastity (James) Shelby of Gary, Ind., Sidney Johnson of Edwardsville, Ill., Stacy Johnson of Edwardsville, Illinois, Monique McCline of Statesville, Kayel McCline of Siler City, Charles (Tatiana) McCline II and Destiny (David) Chica of Conover; his great grandchildren, Kali Lyles, Layla Lyles, Michael Lyles II, Lorenzo Lyles, Jaxon Johnson, Khai McCline, Jayden McCline, Paris Brewington, Jalian McCline and Lucas Chica; and a host of nieces, nephews, cousins, other relatives and friends.
Rutledge & Bigham Funeral Home is serving the family.