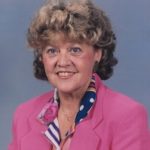 Mildred Ann Davidson Campbell, 84, of Statesville, N.C., passed away unexpectedly on Wednesday, February 12, 2020, at her home.
Mrs. Campbell was born June 9, 1935 in Iredell County and was the daughter of the late Roy Davidson and Berta Roseman Davidson. She was a graduate of Celeste Henkel High School and was a member of First ARP Church in Statesville. She was a loving mother, grandmother, great grandmother, sister, friend and daughter in Christ.
She is survived by three children, Donna Sue Campbell Sigmon of Newton, Dalton "Dody" Campbell Jr. of Statesville, Brigitte Alaine Campbell of Hickory; their father, Dalton Campbell Sr. of Statesville; four grandchildren, Erica Paquin (Victor), Christina Saunders (Mark), Grace Tuttle (Marty), and William Campbell; four great grandchildren, Reagan Saunders, Gabriella Hernandez, Sawyer Saunders, and Annabelle Hernandez; five siblings, Max Davidson (Betty), Henry "Bob" Davidson (Chloe), Dottie LaClair (Nelson), Wanda Isenhour (Eugene), and Frank Davidson (Sue); and numerous nieces and nephews.
In addition to her parents, she was preceded in death by one son, Darrell Lynn Campbell; five siblings, Alston Davidson, Jim Davidson, Pete "Roy" Davidson, Rosie Davidson and Carolyn Davidson.
Funeral services will be held at 3 p.m. on Saturday, February 15, 2020, at First ARP Church with Rev. Phil McCoy officiating. Burial will follow in the Bethlehem UMC Church Cemetery. The family will receive friends on Saturday from 2 to 3 p.m. at First ARP Church.
Active pallbearers will be Tony Brewer, Victor Paquin, Mark Saunders, Steve Davidson, Dan LaClair and Michael Davidson. Honorary pallbearers will be Sawyer Saunders, Wayne Spivey and Griffin Davidson.
In lieu of flowers, memorials may be made to First ARP Church or Home Instead Health Care. Online condolences may be made to the family at www.troutmanfuneralhome.com