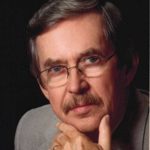 James "Sam" Hughes Minter, 76, of Mooresville, N.C., passed away on Wednesday, February 12, 2020, at Lake Norman Regional Medical Center.
He was born on January 29, 1944, in Lexington, N.C., to the late Luther "Bill" Minter and Doris Farabee Minter Gibson. Mr. Minter was a U.S. Air Force veteran.
He is survived by his wife, Linda Hyatt Minter; sisters, Brenda Minter Jones and Phyllis Minter Martin; and numerous nieces and nephews.
The family will receive friends on Saturday, February 15, from 1 to 2:15 p.m. with a service following at 2:30 p.m. at Liberty Baptist Church in Mooresville with Rev. Eddie Graham and Rev. John Miles officiating. Burial will follow the service at Prospect Presbyterian Church Cemetery, Mooresville.
In lieu of flowers, memorials may be made to Liberty Baptist Church Mission Fund, 171 Johnson Dairy Road, Mooresville NC 28115.
Cavin-Cook Funeral Home & Crematory, Mooresville, is serving the Minter family. Condolences may be made to the family at www.cavin-cook.com.