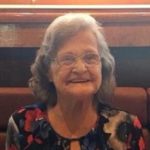 Mildred "Millie" Jane Cothren Johnson, 84, of Statesville, N.C., went home to be with Jesus on Thursday, July 16, 2020, after a brave battle against cancer.
She was born in Wilkes County on September 1, 1935, to the late Jarva Cothren and Annie Blanche Mastin Johnson. She was also preceded in death by her husband, Harold Dean "Bud" Johnson; three brothers, Gary Johnson, Grady Johnson, and Jay Cothren; a grandson, Thomas Lee Minton; and a great-grandson, TJ Nicholas.
Mildred was a retired cashier and enjoyed playing rook and rummy. She loved God and her family faithfully. She was lovingly known as Mom, Millie, Mamaw, and Granny. She loved reading her Bible, her church, and being a grandmother.
She is survived by four daughters, Sandy Johnson (Kevin Jolly), Janice Potts (John Putnam), Bonnie Christy (Dale), and Marie Davis (Rick Ellis); two sons, Danny Johnson (Susan) and Timmie Johnson (Billie Jean); 13 grandchildren; 16 great grandchildren; eight great-great grandchildren; a brother, Dale Pendergrass; two sisters, Becky Dillinger and Pat Shumaker; two sisters-in-law, Clara Sue Dillard and Frances Queen, and her best friend of many years, Lynn Robinson.
The family would like to express their deepest gratitude to several people and organizations., including the good friends Mildred made while living at Kings Grant Retirement Community, especially Debbie Buxton and Barbara Smithey, along with the Iredell County EMS Community Paramedics Program and the wonderful paramedics Kristy Smyre and Chris Martin, and the Gordon Hospice House and the wonderful nurses Laura Harris and Gail Odom.
The family will receive friends on Monday, July 20, 2020, at Nicholson Funeral Home from 6 to 8 p.m. Funeral services will be held on Tuesday, July 21, 2020, at 11 a.m. in the Nicholson Funeral Home Chapel with Pastor Dan Frye and Pastor Ronald Young officiating. Burial will follow at 2 p.m. in the Mountain View Baptist Church Cemetery, 297 Mountain View Church Road, North Wilkesboro, NC 28659. Due to the COVID-19 restrictions on attendance, the service will be live streamed on the Nicholson Funeral Home website.
In lieu of flowers, memorials may be made to the Gordon Hospice House, 2341 Simonton Road, Statesville, NC 28625 or to the Iredell County EMS Community Paramedics Program, P.O. Box 788, Statesville, NC, 28687.
Nicholson Funeral Home is serving the family.