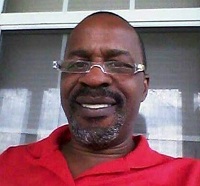 Nathaniel Howard Dunlap Jr., 57, of 110 Hayes Street, Harmony, N.C., departed this life unexpectedly on Sunday, November 1, 2020, at his residence. He was born in Iredell County on April 21, 1963, and was the son of Nathaniel Howard Dunlap Sr. and Joann White Dunlap.
He was married to Ruby Mayfield Dunlap, who preceded him in death. In addition to his spouse, he was preceded in death by a grandson, Maurice Bernard Campbell Jr.
He was employed by Commercial Trucking as a Truck Driver. He was a member of St. Joseph Baptist Church.
Left to cherish his precious memory, in addition to his parents, Nathan and Joann Dunlap, are his children, Maurice (Kimberly) Campbell of Statesville, Jasmine Dunlap of Harmony and Tychelle Ashley Campbell of Harmony; his former wife, Antoinette Campbell Dunlap of Harmony; three grandchildren, Clayton Brown, Nevada Antionette Campbell, and Cyrice Campbell; one great-grandchild, Zaylynn Brown; four brothers, Steven Dunlap (Monica) of Charlotte, Diarra Dunlap of Nebraska, Shawn Jones of Springfield, Mass., and Ryan Jones of Charlotte; five sisters, his twin, Natalie Mott (David) of Statesville, Alfreda Dunlap of Greensboro, Tonya Dunlap (James) Troublefield of Statesville, Cassandra D. Haberern (Ross) of Statesville, and Sheila Rousseau of Statesville; five nephews; five nieces; ten great nieces; one great great niece; two aunts, Margaret Dunlap Shipp and Pauline Dunlap Byers; special cousins, Johnnie Bell McClelland and Thelma (James) Oakley; three special friends, Wayne Church, Tonya Holmes and Byrd Nichols.
Celebration of Life Services will be conducted Thursday, November 5, 2020, at 1 p.m. at Rutledge and Bigham Funeral Home. Reverend Darrick Clemons will officiate and burial will follow in the St. Joseph Baptist Church Cemetery.
You can only enter the funeral with a funeral pass, which will be given to the family.
General public viewing will be held on Wednesday, November 4, 2020, from 4 until 7 p.m. and resume Thursday, November 5, 2020, from 9 a.m. until the funeral hour.
Visit the Book of Memories for Mr. Dunlap on at www.rutledgeandbigham.com. Rutledge and Bigham Funeral Home is serving the Dunlap Family.