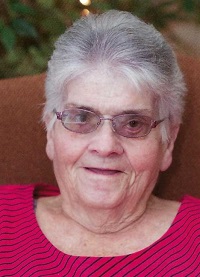 Our mom, Olean Deal, joined the love of her life, Coite, in Heaven on Wednesday, March 25, 2020. She was born December 23, 1929, in Harmony, N.C., to Alfred D. and Carrie Bell Johnson Harris, who preceded her in death. She was married to Coite O. Deal, who also predeceased her. Together they raised six children, Shelby (Rick) Bustle, Jane Kale, Michael C. (Paulette), Terri Jenkins, Mark T. (Lori) and Bobby A. (Shauna) Deal.
She loved her grands, of which there were 10 grandsons, Keegan Bustle, Jamie Kale, Christopher, Daniel and David Jenkins, and Bradley, Wesley, Alex, Matthew and Dustin Deal. Also, outnumbered but holding there own, because she taught them to, were the granddaughters, Taylor (Zach) McIntosh and Amy Deal. Her great grands she counted the days for were Kennedy, Emerson and JJ.
She is also survived by her brother Albert L. Harris of Harmony. A sister, Joyce H. Billings, and brother, Herman D. Harris also preceded her She is also survived by numerous nieces, nephews and cousins.
She loved her family and came up hard during the Depression on a farm in Harmony, helping her daddy by doing a man's day's work in the fields, since she was the oldest of four children, until her two younger brothers were big enough to help out. Her love of the outdoors continued into her adulthood as she always loved gardening vegetables and flowers. Her house wasn't always clean but her yard was awesome.
While raising six children, and after marrying Daddy, she learned to love sports as all of them played and she was an avid Braves fan, always watching from home and even attending games. She loved her church and she and Daddy made sure their family attended and were active there, serving as a Sunday School teacher for some 37 years and in other capacities. She loved the Women of the Church and worked tirelessly in the circles receiving Love Gifts and other distinctions. After raising her children, she decided she needed something else to do so she began substitute work in the Iredell-Statesville School system and the kids there all loved her as she did them.
There will be a private graveside service for Mrs. Deal at New Sterling ARP Church on Saturday, March 28, 2020, with Dr. Earl Linderman officiating. She will lie in state at Bunch Johnson Funeral Home on Friday, March 27, from 12 to 5 p.m. and Saturday, March 28, from 9 a.m. to 12 noon.
In lieu of flowers, it is the family's request that memorials be made to either New Sterling ARP Church Cemetary Fund, 580 New Sterling Road, Stony Point, NC 28678 or New Hope Baptist Church Cemetary Fund, 4921 Harmony Highway, Houstonville, NC 27020.
Rest easy, Momma.
Bunch-Johnson Funeral Home is serving the family.