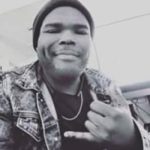 Tyree Allenec Dalton, beloved son of Georgellen Brown and Mark Twayne Dalton, was born in Statesville, N.C., on August 21, 1992. He departed this life on Friday, March 20, 2020, at Wake Forest Baptist Medical Center in Winston-Salem, N.C., following an accident.
Tye, as he was affectionately called, attended the Statesville City Schools. At an early age, he joined St. Joseph Baptist Church and played the drums at one time. He was employed by Burger King and Cookout. His hobbies included photography and rapping.
He was preceded in death by a brother, Marquise Dalton; grandparents, George and Beulah Johnson Brown; and an uncle, Carl Brown.
He leaves to celebrate the blessing of his life his mother, Georgellen Brown of Statesville; his father, Mark T. Dalton of Mocksville; his paternal grandmother, Patricia Dalton of Mooresville; brothers, Javon Geter of Statesville, Markevies Dalton and Trea Dalton, both of Winston-Salem; his step sisters, Savana Mance of Texas, Sabrina Mance of Virginia and Sairke Mance of Salisbury; aunts and uncles, Flora Griffin, Lavida (Silas) Harris, Richard (Shirley) Johnson, Jessie (Lisa) Brown, John (Mary) Brown, Samuel (Deneva) Brown, Elaine Heaggans, David Brown, Robin Dalton, and Gashella Dalton; his cousins, Mia Dalton and Taliyah Dalton, Chris (Debra) Griffin, Derrick Griffin, and Robin Griffin, all of Statesville, Trivia (Eric) Griffin Sharpe, and Kenny (Felina) Harris, all of Troutman, Stacey (Crystal) Harris of Statesville, Samuel (Seredi) Dixon of Maryland, Shaun (Toya) Dixon of San Diego, Calif., Bruce (Camilla) Newland, Nynika Brown and Randall Brown, all of Taylorsville, Carlos (Cheena) Brown, Arantxa Brown of Phoenix, Ariz., Ravonna (Brian) Imes of Statesville, Kario ( Heather) Brooks of Bloomington, Minn., Santana Brown of Misausa Japan, Karian Brown and San Juan Brown, both of Charlotte, Daminica Brown; Samarian Brown; and Sermerian Brown, all of Waldorf, Md., Tramaine (Kingsley) Harrison of Charlotte, Mikeyla Moore; and Natasha (Octavius) Linster and Tasia Hall of Statesville; great aunt, Frances Wilkins of Statesville; great uncles, Alex Stevenson of Free Port, N.Y., and Bill Roseboro of Statesville; the St. Joseph Missionary Baptist Church family; special friends, Michael White, Bryan (Ashlee) Anderson, April (Eric) Tester, Carl Moore, Yonathan Martinez, and Sadenny Fernandez, the Burger King and Cookout Families; and other relatives and friends.
Celebration of Life Services will be conducted Saturday, March 28, 2020, at St. Joseph Baptist Church at 2 p.m. Tyree will remain at Rutledge and Bigham Funeral Home, 603 South Center Street, Statesville, NC 28677, until taken to the church to lie in state at 1 p.m.
There will be no public visitation; however, general public viewing will be on Saturday, March 28, 2020, from 9 a.m. until 12 noon Visit the Book of Memories for Mr. Dalton at www.rutledgeandbigham.com.
Unfortunately, with the COVID-19 virus, Rutledge and Bigham Funeral Home, along with other funeral homes across the country, has been issued a mandate to limit the number of family and/or friends at funeral services. You can only enter the funeral with a funeral pass, which will be handed out by the family.
Rutledge and Bigham Funeral Home is serving the family of Tyree Dalton.