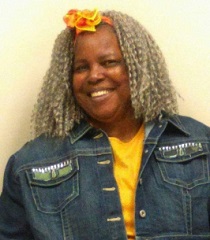 Ms. Ozell Strickland, beloved daughter of the late Caper and Maggie Tuck Strickland, was born in Rowan County, N.C., on May 28, 1940, and raised by her late grandmother, Lorine Strickland. She peacefully entered into eternal rest on Saturday, September 19, 2020, at Novant Health in Winston-Salem, N.C., following an extended illness.
She attended Unity High School and was a member of Knox Grove Baptist Church in Cleveland. At one time, she was employed by Basset Furniture Company and later Armstrong Chair Company. She was all about her family, and she loved to travel, loved people, and decorating and was said to be the "Black Martha Stewart." Christmas was her favorite time of the year.
In addition to her parents, Caper Strickland and Maggie Tuck Strickland, Ozell was also preceded in death by her grandmother, Lorine Strickland; great grandmother, Ozell Tuck; two sons, Harvey Lee Strickland and Randy Strickland; brothers, Joe Lewis Strickland, Clarence Michael Strickland, James Strickland, Willie Strickland, and Abraham Strickland; a sister, Zariaha Strickland; son-in-law, Melton McDonald; sister-in-law, Mayola Strickland; aunts, Helen Mathis, Virginia Mathis, Annie Mathis, Louvenia (Clyde) Summers and Roselee Lowery, Clarence Strickland and James Strickland.
She leaves to cherish the memory of her life one son, Caper Strickland of the home; three daughters, Margaret (James) Strickland Caldwell, Mary Strickland and Verlencia Strickland McDonald, all of Statesville; grandchildren, Aprile Strickland, whom she raised, of Statesville, Davon Strickland, Jeremy Strickland, and Jasmin Strickland, all of Statesville, Miani Speaks of Stony Point, Kyla Strickland and Ayliah McDonald, both of Statesville, Lydon Strickland of Stony Point, and Marcus Strickland of Statesville; great grandchildren, Mekenzie Strickland, Ryleigh Strickland, King Strickland, Lillianna Parks, Ivianna Parks, Camdem Strickland and Skye Strickland; brothers, Henry Strickland of Statesville, Joanne Bridget of Salisbury, and Willie Strickland and Ernest Strickland, both of Statesville; a host of nieces, nephews, cousins, other relatives, church family and friends
Funeral Service is scheduled for 1 p.m. on Friday, September 25, 2020, at Rutledge and Bigham Funeral Home, 603 South Center Street, Statesville.
Rutledge and Bigham Funeral Home is serving the family.