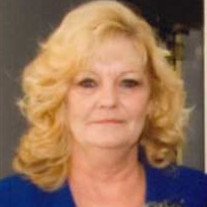 Patricia Justus, 67, of Troutman, N.C., went to be with her Lord and Savior in the evening hours of Friday, December 11, 2020, after a period of declining health. She was born on May 5, 1953, in Pikeville, Ky., to the late Pat and Bessie Gillespie Rogers.
In addition to her parents, she was preceded in death by her estranged husband, Albert Justus; an infant son; sisters, Ruby Toler, Peggy Johnson, Freda Ellis, and Martha Moore; and brothers, Larry Rogers, Patty Rogers.
She is survived by her daughters, Tammy Toler of Troutman, Tina Graham (Bobby) of Pounding Mill, Va., Joyce Hagerman (Dwayne) of Troutman, and Brandi Kendrick (Steven) of Statesville; son, Greg Justus (Amanda) of Statesville; brother, Elmer Rogers of Troutman; grandchildren, Natisha Toler, Gary Toler (Zena), Brittany Collins (Jonathan), Amber Boutot (Michael), Brianna Hagerman (Jeremiah), Christifer Hagerman, Taylor Graham, Hailey Kendrick, Payton Kendrick, Carlie Hagerman, Brooklyn Justus, and Bennett Justus; step-granddaughter, Stephanie Wiseman (Matthew); great grandchildren, Summer Toler, Lynzee Toler, Ryder Hagerman, Gunner Hagerman, Colson Hagerman, Conor Collins, Declan Collins, Talan Childress, and Carter Childress; and step-great grandchildren, Karter and Colson Wiseman, and Devin Boutot. She is also survived by the father of her two youngest children, Eddie Pruitt of Bradshaw, W.Va., and her honorary daughter, April Roberts (Jessie) of Statesville.
Pat worked as a personal home care aide and in factories for many years. She enjoyed watching cooking and game shows on TV, shopping, joy rides and more than anything she loved spending time with her family. She was a person with a tremendously strong determination and will. She enjoyed the simple things in life and her family was her most prized possession. She did a fantastic job and never gave up while raising five children as a widow. She did this with great determination, courage, and strength! She gave this demanding role no thought, and she will always be remembered as the one who taught our family how to love. She taught her family the most important thing in life was to love the Lord with all your heart, soul, and mind. She gave many sacrifices through the years. She laid a solid foundation in the Lord for her family to build their lives on by teaching them that when you don't know what to pray, just speak the name of Jesus. The family will always remember this as her lasting legacy.
The family is very proud and thankful that her granddaughter, Hailey, was able to be her personal caregiver during these recent months. She had a large number of nieces, nephews and honorary family members that she loved dearly. Special family include Tonya Cosner, Linda Simpson, Misty Browning, Terry Toler, Patrick Rogers, Tammy Moore and Whitney Arreola.
Funeral services will be held at 1 p.m. on Wednesday, December 16, 2020, at Cavin-Cook Funeral Home with Rev. Maxine Honaker and Rev. Daniel May officiating. Burial will follow the service at Stony Point Cemetery. Pall bearers will be family and friends of the family.
The family will receive friends prior to the service from 11 a.m. to 1 p.m. at the funeral home.
Memorials may be made to Propel Family Worship Center, 272 Branchwood Road, Statesville, NC 28625
Cavin-Cook Funeral Home, Mooresville, is serving the Justus family. Condolences may be made to the family at www.cavin-cook.com.