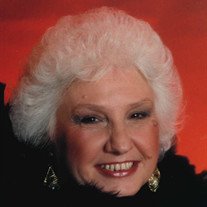 Patricia "Pat" Overcash Cruse Gantt Morrow, 81, of Concord, N.C., passed away on Sunday, September 13, 2020, at her home. She was born on April 29, 1939, in Mooreville, N.C., the daughter of the late Fred Caldwell Overcash and Oleta Ketchie Overcash.
Pat was a faithful member of First Assembly Church of Concord.
In addition to her parents, she was preceded in death by her husband, Fred J. Morrow; six brothers, Taylor, Homer, Robert, Billy, Max and David Overcash; and five sisters, Lucy Ward, Marie Stutts, Thelma Torrence, Nelly Johnson and Betty Bentley.
She is survived by her children, Beverly Saltz, Randall Cruse and Kim Daniels; and grandchildren, Shaun Cruse (Sheena), Ian Shumaker, Bridget Carrigan, Jessica Saltz, Chase Carrigan, Landon Coffey, Makayla Banaka and Savannah Goans; and her faithful schnauzer companion Chase; two sister-in-laws, Mary Overcash and Barbara Overcash; and numerous nieces and nephews.
A visitation will be held from 1 to 2 p.m. on Wednesday, September 16, 2020, at Cavin-Cook Funeral Home with a service to follow at 2 p.m. officiated by Rev. John Miles. A graveside service will follow at Willow Valley Cemetery.
The family of Patricia Morrow would like to say a special thank you to Rod Bowman and the hospice caregivers, Sylvia, Becky and Diane, and Dr. David Cook for their loving care and compassion.
For those who are unable to attend the service, you may go to the following link for the live stream https://www.youtube.com/channel/UC864hAs96dTRLVVL1la0Qlw/videos?view=2&flow=list
For those who are unable to attend the graveside, you may go to the following link for the live stream https://www.facebook.com/CavinCookFuneralHomeServices/
In lieu of flowers, memorials can be made to Hospice and Palliative Care Charlotte Region, 7845 Little Ave, Charlotte, NC 28226 or Cavin-Cook Funeral Home to help with funeral expenses.
Cavin-Cook Funeral Home, Mooresville, is serving the Morrow family. Condolences may be made to the family at www.cavin-cook.com.