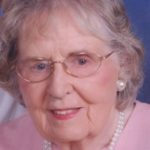 Pattie Tysinger Linton went home to be in the presence of God in the early morning of Friday, January 3, 2020. Pattie was born on September 7, 1934, in Marion, N.C., to James and Rosemary Tysinger. She attended and graduated from Houghton College in Houghton, N.Y., where she met her beloved David and they married on August 17, 1957. They raised two children, Greg and Denise.
Pattie and David lived in Miami, Fla., until they retired and were snowbirds in Gladevalley, N.C. Pattie was a loving wife, mother ,grandmother, sister, aunt, cousin, friend and schoolteacher. But the most important role that she played was a loving servant for God. Pattie had a special relationship with her heavenly father and followed his call to be a missionary alongside her husband in Haiti and Zambia, Africa. She was involved with many organizations to help others and share the love of Jesus. Those who loved her lost so much at her passing, yet gained so much from her living.
Pattie was preceded in death by her parents, James and Rosemary Tysinger; and her sisters Doris Anne Essepian, Margaret Ross and Mary Stephens. She is survived by her husband of 62 years, David Linton; her son Gregory Linton; daughter Denise Linton; grandsons Steven Linton, Hunter Allen and Christian Linton; sister Faith Lamphier, and brothers James (Bud) Tysinger and John Reed Tysinger; and many nieces, nephews and friends.
Services will be help at Bunch-Johnson Funeral Home of Statesville, N.C., on Saturday, January 25, 2020, from 11 a.m. to 1 p.m.
Bunch-Johnson Funeral Home is entrusted with arrangements.