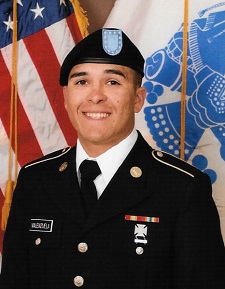 PFC Jacob Jordan Valenzuela, 23, passed away unexpectedly January 5, 2020, in El Paso, Texas, where he was stationed at Fort Bliss.
Jacob was born September 9, 1996, to Diana Byrnes and David Valenzuela Jr. Jacob grew up and graduated from high school in Riverside, Calif., and was serving in the U.S. Army.
Jacob was a beloved son, grandson, brother, nephew, cousin, and friend to all he knew.
Jacob is survived by his mother and step dad, Diana and Keith Byrnes of Mooresville; and his father and step mom, David and Patty Valenzuela; brothers Jesse and Issac; and sister Mia, all of California.
Services will be held at Troutman Funeral Homes at 5 p.m. on Friday, January 17, 2020. If you wish to attend, please arrive by 4:30 p.m. There will also be a service held in California.
Online condolences may be sent to the family at www.troutmanfuneralhome.com.
Troutman Funeral Homes is serving the family in North Carolina of PFC Jacob Valenzuela.