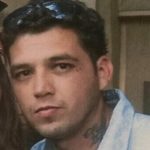 Raymundo Jimenez, 34, of Charlotte, N.C., died unexpectedly on Wednesday, August 26, 2020. He was born in Los Angeles, Calif., on November 4, 1985, to Alvaro Jimenez and Leticia Marquez.
Raymundo was a great son and brother. He loved his family and was dedicated to his nieces and nephews. He was a friendly, loving, and hard-working man who loved the outdoors. He enjoyed sports, especially basketball, and he was a huge Lakers fan.
Those left to cherish his memory are his mother, Leticia Marquez of Statesville, N.C.; father, Alvaro Jimenez of Mexico; two brothers, Onofre Fierros Jr. (Megan McClellan) and Joshua Arroyo; four sisters, Margarita Marquez (Adrian Lopez), Kassandra Arroyo, Yadira Rogers, and Mayra Avila; nieces and nephews, Clara Parra, Jocelyn Garcia, Sarai Garcia, Annai Marquez, Rylen Fierros, and Leilani Arroyo; and his best friend, Christian Catarino.
Funeral Services will be held Monday, August 31, 2020, at 10 a.m. in the Nicholson Funeral Home Chapel. Burial will follow in Oakwood Cemetery. The family will visit with friends Sunday evening, August 30, 2020, from 6 to 8 p.m.
Fond memories and condolences may be left at www.nicholsonfunerals.com.
You may watch the service live HERE.
Nicholson Funeral Home is serving the family.