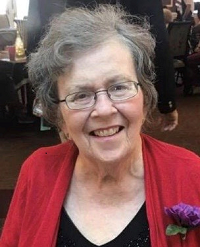 Rebecca Gaston Kirkman, 77, died at Spring Arbor Memory Care in Greensboro, N.C., on March 4. She was born in Gastonia in 1942 to Maury and Ruth Gaston, who moved with their young family to Statesville in 1944 when Maury was hired as County Agent for Iredell County. Becky attended Davie Avenue School, D. Matt Thompson, and Statesville High School, graduating in 1960. She studied elementary education at Salem College and later became an elementary teacher for Statesville City Schools. She married Karl G. Kirkman of Statesville and they became parents of Mary Ruth Kirkman Hunt, now of Greensboro, and Graham Kirkman of Atlanta.
She is survived by her children and grandchildren, Rebecca, Caroline and Thomas Hunt, and Henry and William Kirkman. She is also survived by her sister, Sarah Gaston Borders of Statesville, and nephews, Brad and Stephen Borders. Her French "sister," Francoise Josselin of Paris, also survives. Francoise, an American Field Service student, lived with the Gaston family in 1958-59.
After earning her M.A. in counseling from UNCC, Becky became a counselor at Oakwood Junior High School. She later moved to the Iredell-Statesville Schools central office, where she was coordinator for special needs children in the county. After her retirement, she served as an active member of the Board of Directors for Fifth Street Ministries. She worked tirelessly in support of fundraising and other needs during the years of the building program. She organized the Presbyterian Church women in an ongoing outreach project of cooking and serving meals to residents at the shelter. She continued as a regular volunteer until her illness in 2014.
Known for her hospitality, Becky will be lovingly remembered by her family for elegant holiday meals. The circle of musicians and friends who were present for the annual "Strawberry Jam" which she hosted each May in her backyard from 1998 to 2012 will recall extraordinary evenings of barbecue, old-time music and sharing stories. Her colleagues from the exceptional children's program greatly enjoyed luncheons which featured Becky's chicken salad. A homebody at heart, her door was always open. She warmly welcomed spontaneous visitors to the fireside in her den or to her back porch for visits and good conversation. She will be greatly missed by family, friends, and colleagues.
There will be a graveside service on Sunday, March 8, at Oakwood Cemetery at 2 p.m. followed by a Celebration of Life at the Wine Maestro downtown Statesville. Memorials may be made to Fifth Street Ministries in Statesville or Hospice & Palliative Care of Iredell County.
Online condolences may be made to the family at www.troutmanfuneralhome.com
Troutman Funeral Home is serving the family.