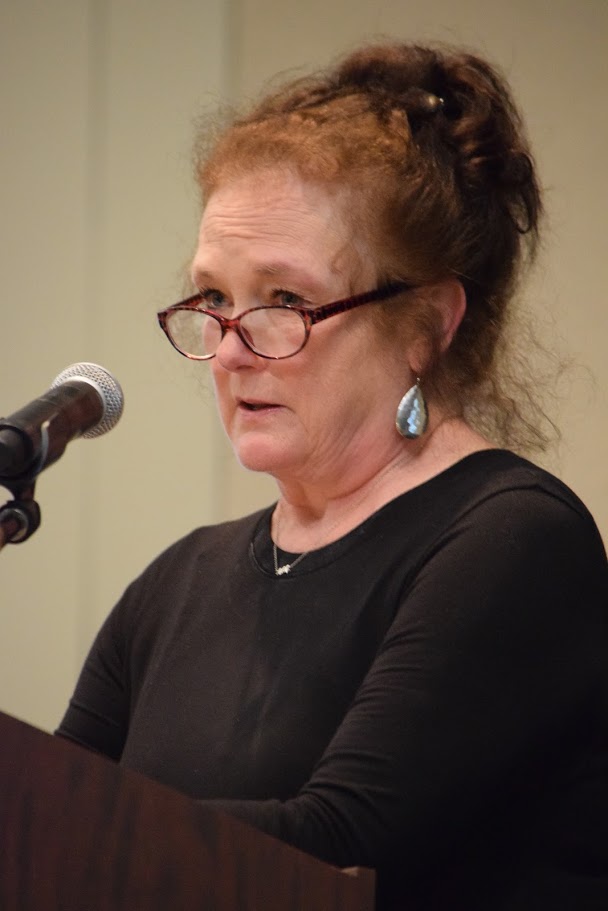 BY DEBBIE PAGE
debbiepage.iredellfreenews@gmail.com
Fifth Street Ministries' mission is much more than providing shelter, food, and medical care to 150 people each day.
The nonprofit's real purpose, according to Executive Director Patti West, is to treat these folks with dignity, love, respect, and to truly hear their stories.
After sharing the organization's work with the homeless and hungry, victims of domestic violence, and struggling military veterans, West told the overflow crowd of over 500 people at the Statesville Civic Center on Thursday night that the little moments, such as the conversation and boundless faith of people at Will Long's devotions, "bring me to my knees."
"It's humbling to see their deep faith," West said a ceremony marking Fifth Street Ministries' 30th anniversary. "How can they maintain that through what they have been through?"
West said that she often has to fight against the stereotyping of the homeless. "Nobody wants to be homeless. Things happen," she said.
The ultimate goal of Fifth Street is to get folks into permanent housing, but the stretch to the reality of making that happen is sometimes overwhelming. "We help them work through barriers such as evictions or felonies. They couldn't do it without that hand walking beside them."
However, the organization is more than just helping people get a job and a home. "We build the person up, teach them life skills and work ethic, how to interview for a job, help get them to substance abuse and mental health treatment. We help them sort out all that stuff. We have a goal of being a provider of person-centered case management," West explained.
Though Patti and her husband Gary had a passion to help the homeless, West said her road at Fifth Street was not easy. "We had to learn to love the person, not just the work. I work at it every single day. I have to sit down and listen to folks, to find that broken spirit underneath. Unless you listen and don't judge, you won't know that."
With limited funds and a small staff, Fifth Street accomplishes much for people truly struggling in the community. "I see God's hand in making that work happen. We let God work through us as we provide service to some amazing human beings."
West said the organization still has much it wants to do but "that it has to be in God's time because plans won't work out unless it is."
In a video, audience members met Thelma "Shoe Bug" Shuford, Tim Kincaid and Rochella Bird. They shared their experiences of finding love, community, help, and opportunity while in the shelter. Shuford is now head cook, and Kincaid is on the organization's board of directors.
Bird, who completed two years of college before falling into difficult circumstances, is a current resident. She said that Fifth Street was "a stepping stone to get back on my feet. I'm not alone." She credits the love and kind-heartedness of the staff and residents "which goes a long way."
Fifth Street case manager Brantly Grier shared his own personal story of falling into homelessness through his own poor decisions and lost opportunities. He blew a basketball scholarship at North Carolina A & T, stole money from his employer after leaving school, and ended up with a felony conviction, disappointing his loving and supportive family.
After getting a job working with the homeless, he got his life back together, married, and was doing well. Then he lost the job during the recession in 2010, got divorced, and ended up homeless. Eventually, he got one part-time job working in a shelter and was soon working four different jobs, one of which was a manager at McDonald's after only three months of working there.
"Success was measured by the goals I set for myself — the small things in life."
Realizing his passion was working with the homeless after his own experiences, Grier applied at Fifth Street in 2018. He immediately knew "something is different about this place. I've never worked anywhere as compassionate as Fifth Street Ministries."
"The greatest thing we can do is to help each other," added Grier, who started seminary education in January. "You don't know what small act of kindness will change a life." He aid that cultivating these people's lives impacts not only the homeless but the staff as well.
Dwain Edwards, who once lived in the woods near Walmar in brutal winter weather, credited Fifth Street with saving his life by helping him recover from alcoholism and assisting him with gaining employment and a place to live two years ago. Without Fifth Street, Edwards said, "I wouldn't be here today."
Fifth Street board member Doug Hendrix reminded the crowd that "even broken crayons still color. That's a lesson for all of us."
Hendrix urged the crowd to give generously to help continue Fifth Street Ministries' missions because "it's an investment not just in Fifth Street, but in this community and its future."
North Carolina, according to the National Coalition for the Homeless, ranks 26th in the nation in funding to help the homeless.
Fifth Street Ministries' Director of Development Will Long ended the evening by speaking of those he works with on a daily basis.
"They choose to hold onto faith with no reason to do so. It's a privilege to interact with the 150 people we have with us each night. They have molded my faith in ways you will never know."
Long credited "Bug" Shuford with teaching him that no matter who you are, you are loved.
"All of the people who come to us are in crisis. They have exhausted their friends and family resources. We meet them where they are."
Long then spoke of a man at devotions that morning who said, "I see hope."
That is what Fifth Street Ministries is all about.