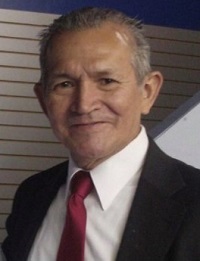 Redany Exarain Melgar-Fuentes, 75, of Statesville, N.C., passed away June 16, 2020, at Iredell Memorial Hospital. Born in El Salvador on January 1, 1945, he was the son of Andres Melgar and Guillermine Fuentes.
He worked for Ashley Furniture and was co-pastor of Iglesia Pentecostal Peniel.
Those left to cherish his memories are his wife of 52 years, Blanca Lidia Melgar Feruffino; and three daughters, Noris Yaneth Melgar, Brenda Rosmery Cruz and Isela Concepcian Llerena Melgar. He is also survived by six grandchildren, Mariana Stephanie Santos, Merary Daniella Santos, Samuel Neftali Cruz, David Isaiah Cruz, Matthew James Llerena and Gianna Nicci Llerena; and three great-grandchildren, Joshua Natanael Ortega Santos, Rebekah Elizabet Ortega Santos and Abigail Lydia Ortega Santos.
A funeral service will be held Saturday, June 27, 2020, at 11 a.m. at Bunch-Johnson Funeral Home with burial to follow at Oakwood Cemetery.
Bunch-Johnson Funeral Home is serving the Melgar family.