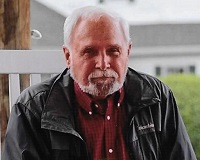 Richard Dale Rogers, 76, of Troutman, N.C., passed away peacefully on Tuesday, June 9, 2020, at the Gordon Hospice House following a brief illness.
Dale was born August 25, 1943, in Iredell County and was the son of the late George Washington Rogers and Theda Fortner Rogers. He was a graduate of Troutman High School and on August 11, 1962, he married Sue Tucker Rogers.
He worked alongside his Dad at Rogers Amoco before starting his own business. In 1984, he started Rogers Appliance Sales & Service, where he worked alongside his son and son-in-law for 36 years. He was a 32nd degree Mason and was the Past Master of the Campbell Masonic Lodge and a member of the Oasis Drum & Bugle. He was a lifelong member of Troutman Baptist Church.
In addition to his wife, Dale is survived by one daughter, Lisa Rogers Estes (Gary) of Statesville; one son, Brent Eric Rogers (Delaina) of Troutman; and four grandchildren, Chad Estes, Ben Estes (Kirsten), Logan Rogers, and Adelyn Rogers; nephews, Bradley and Marcus Troutman; and his Bichon, Jake.
He was preceded in death by his sister, Gail Rogers Troutman.
A Memorial service will be held at 2 p.m. on Sunday, June 14, 2020, at Beulah Baptist Church with Pastor John Stevenson and Rev. J.B. Parker officiating. The family will speak with friends following the service outdoors.
The family would like to give a special thanks to Dr. Naren and Staff, Sabrina with the Gordon Hospice House and all their family and friends who gave their love and support.
Memorials may be made to Troutman Baptist Church Building or Playground Fund and online condolences may be made to the family at www.troutmanfuneralhome.com.
Troutman Funeral Home is serving the family.