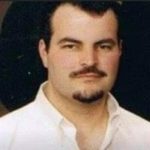 Walter Lee St. John Jr., 51, of Statesville, N.C., passed away on June 8, 2020, at Gordon Hospice House surrounded by his family. He was born March 13, 1969, in Statesville, the son of Janses Neaves and the late Walter Lee St. John Sr., who was a sniper E7 in the U.S. Army.
Walter had a passion for learning that led him to Mitchell Community College, where he excelled in his studies and was the president of Phi Theta Kappa. After obtaining an associate degree in Liberal Arts, he furthered his education at UNC Chapel Hill and obtained a Bachelor's Degree in History. His minors included Native American Studies, Women's Studies and Religious Studies. Later, for fun and his love for knowledge, he returned to Mitchell and received his EMT and Paramedic credentials. Walter was employed by JPS Composite as a systems administrator.
He enjoyed role-play games such as Dungeons and Dragons and Magic the Gathering, where his love of history made the games come to life. Most of all, Walter loved spending time in the company of his family and friends. He will be deeply missed by all.
Left to cherish his memory are his mother, Janses Neaves; brother, Tony Campbell and wife Rhonda; sisters, Tammy Cantrell and husband Chris and Angel Patterson and fiancé Lenny Hendrix, all of Statesville; nephews, Frank Underwood, Paul Underwood, Connor Vowels and Josh Patterson; nieces, Heather Forehand, Christy Moore and husband Eli, and Ada Hendrix; great nieces, Madison Moore, Haley Forehand and Julynne Busick; great nephews, Brandon Moore and Isaac Forehand. Walter also claimed as family and cherished the numerous friends that he gamed with, worked with, and those with whom he created lasting bonds.
A special thank you to those "family" members who spent time visiting, calling, texting and showing support to Walter during his fight over the last 15 months. Also, special Thank you to Dr. Grimm and her loving, compassion staff, Dr. Misra for her faithful devotion to his care. Thanks to "Heros on the Frontline," Iredell Memorial staff and those with Gordon Hospice House.
A celebration of life will be held Sunday, June 14, 2020, from 4 to 6 p.m. at R & B Games 1531 Cinema Drive, Statesville, NC 28625. In lieu of flowers, the family request donations be made to R & B Games to fund a Gaming Summer Camp in Walter's honor. Please share memories and condolences with the family at www.nicholsonfunerals.com.
Nicholson Funeral Home is serving the family.