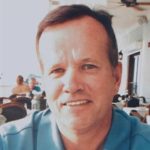 Robert (Bob) James Curan passed away on August 24, 2020, in Mooresville, N.C., at the age of 62 surrounded by love and family.
He was born on June 25, 1958, in Washington, D.C. He was the third youngest of four children from parents John and Margaret (Kain) Curan. Bob is survived by his wife of 33 years, Jacqueline M Curan. Their beautiful marriage was blessed with two children, Kristen and Megan Curan, as well as two grandchildren, Ava and Addison Bowers. He is survived by his siblings Susan Curan, Michael Curan, and Marianne (Curan) Goen.
Bob worked for 26 years as Regional Vice President of Sales for UST Inc. until his retirement in 2009. He then pursued his passion of fishing. In 2018, Bob received his Captain's License and fulfilled his life-long dream by starting his own fishing charter service, Fishin' Lake Norman. His business flourished as he shared his love of fishing with people of all ages.
Bob was a compassionate, loving and gentle father, husband and friend. He strongly believed in treating others fairly, honestly, and with respect. "My parents raised me to treat others the way you want to be treated: The Golden Rule – it's simple." Bob enjoyed fishing, boating and, most of all, spending time with his family and friends.
Friends are invited to celebrate Bob's life on Saturday, September 5, from 6 to 8 p.m. at Cavin-Cook Funeral Home, 494 E Plaza Drive, Mooresville, NC 28115. Mass will be held Sunday, September 6, from 2 to 3 p.m. at St. Therese Catholic Church, 217 Brawley School Road, Mooresville, NC 28117. Graveside service will follow at Mt. Zion Community Cemetery, 19600 Zion Avenue, Cornelius, NC 28031.
In lieu of flowers, donations can be made to Operation North State (www.operationnorthstate.com) or to Hospice & Palliative Care of Iredell County (www.hoic.org).
Cavin-Cook Funeral Home & Crematory, Mooresville, is serving the Curan family. Condolences may be left at www.cavin-cook.com/obituaries.