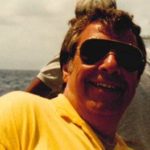 Robert W. Mifsud, better known by his friends as "Miffy," passed away peacefully at the age of 83 on Thursday, January 9, 2020 at his Mooresville, N.C., home.
Bob was born and raised in Bayonne, N.J., to the late Helen (Camillery) and Paul Mifsud. He proudly served our nation in the U.S. Marine Corp. Bob is survived by his wife, Mary (Johns) Mifsud, and his beloved daughters Karin Searson of Clark, N.J., and Kristine Mifsud of Troutman, N.C. He is also survived by his siblings, Elaine Lindberg (Ramon), Barbara Klimkiewicz (Richard), Christine Podbielski (Peter), and the late Thomas Mifsud.
A private cremation service was held at Cavin-Cook Funeral Home in Mooresville, N.C.