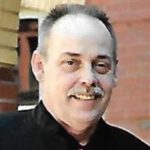 Robin Eugene Loper, 59, died Sunday, March 1, 2020, at the Glenn A. Kiser Hospice House in Salisbury, N.C.
He was born in Virginia to Peggy Joanne Thomas Loper and the late Charles Robert Loper. He was also preceded in death by a daughter; Michelle Loper.
Robin loved camping, fishing and especially working on cars.
Those left to cherish his memory are his wife of 41 years, Gena Upright Loper; three daughters, Stephanie Privette (Shane), Melissa Southern (Joel), and Wendy Loper; five grandchildren, Cullen, Avery, Khloe, Harlan, and Alexandria; one great-grandchild, Rhonin; a sister, Bobbie Jo Loper Morris; a brother, Charles Robert Loper II; a nephew, Joshua Loper; two nieces, Anna Tate and Samantha Morris; and other family members.
Private services will be held at a later date.
Nicholson Funeral Home is serving the family.