R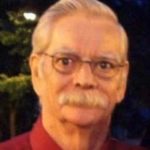 onald Craig "Craig" Abernathy Sr., 73, passed away on September 2, 2020, at Gordon Hospice House in Statesville, N.C. He was the loving husband of Barbara York Abernathy, his wife of 37 years.
Born in Rowan County, N.C., he was the oldest son of the late Oscar and Waulena Abernathy. He graduated from Mooresville Senior High School and went on to become a Weaving Supervisor for Amesbury in Statesville. He retired in 2009.
Craig loved all things historical, with an emphasis on Civil War History and NASCAR. His collection of NASCAR memorabilia is second to none! He also loved being outdoors and would spend many trips of his life taking his wife and children camping throughout the United States—being sure to stop at all the historical sites. As he got older and could not travel as often, he found solace at his youngest daughter's farm in Eastern North Carolina. His favorite outdoor activity was always fishing. He could spend hours on the end of a dock just waiting for the perfect fish to bite. But what he loved more than anything was spending time with his family. If his family needed him, he was always the first to arrive—no matter the time or distance. He will forever be known as a "man of his word." People loved to be near him just to hear his stories. He had a virtual treasure chest of excitement or drama that he could whip out and start sharing at the drop of a hat. It would never fail to make his loved one's smile.
Craig is survived by his wife, Barbara Abernathy; his children, Ronald "Ronnie" Abernathy Jr. (Brenda), Sonya Cavanaugh (AJ), Pamela Abernathy, Lacey Murray (Carl Lord), and Amanda Abernathy (Starla); and his grandchildren: Lillian Lord, Joseph Cavanaugh, Christopher Cavanaugh, Charlotte Osborne, Beth Jackson, Samantha Ward, and Jordan Ward. He was predeceased by his mother, father, and half-brother (Max Calloway).
A "potluck" memorial for family and friends will be held at a later date.
In lieu of flowers, memorial contributions are welcome and should be mailed to the Abby Acres Memorial Fund, 1611 Brook Road, Charlotte, NC 28205.
Memorials and condolences may be left for the family at www.nicholsonfunerals.com.
Nicholson Funeral Home is honored to be serving the Abernathy Family.