Note: Thank you for loving our Mom, Sarah Elizabeth "Betty" Morrison Howard who passed away peacefully, Saturday, March 14, 2020.
Due largely to our desire to help many of Mom's older friends feel safe celebrating her life and attending her funeral, we are going to change the plan that was announced in Mom's obituary.
Here's the new plan as of March 16 at 5 p.m.: The family will gather at a graveside and burial service for Betty at Oakwood Cemetery in Statesville on Wednesday, March 18.
Once nearly everyone agrees that it's very safe to all gather together again in large groups, we will plan a Celebration of Life and Funeral for Mom. That date and time are unknown and will be announced at some point in the future very likely using this same media. Thank you for your patience and understanding in this difficult time. We certainly apologize for any inconvenience and hope you will understand.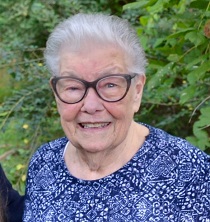 Sarah Elizabeth "Betty" Morrison Howard, 79, of Statesville, N.C., passed away, Saturday, March 14, 2020, at Iredell Memorial Hospital.
Betty was born April 25, 1940, in Iredell County and was the daughter of the late Milton Hall Morrison Sr. and Mabel Mills Morrison. She attended Iredell County schools and was a graduate of Cary High School and Mitchell Community College. She was retired from Iredell-Statesville School System as a cafeteria manager. She was married to the late Roy Eugene Howard Sr., who died February 1, 2016.
She is survived by three children, Gene Howard (Susan) of Four Oaks, N.C., Libby Hill (Roger) of Olin, Phillip Howard (Cammie) of Huntersville, N.C.; six grandchildren, Buck Burns, KeeLeigh Hill, Taylor Howard, Zach Howard, Keith Knaus and Michelle Knaus; one great grandchild, Faith Tyner; one brother, Milton Hall Morrison Jr. (Catherine) of Hamptonville, N.C.; and one sister, Rhoda Harpe of Forest Heights, Ill.
In addition to her parents and husband, she was preceded in death by a brother, Paschal Morrison, and an infant sister, Laura Adele Morrison.
Funeral services will be 3 p.m. on Wednesday, March 18, 2020, in the Troutman Funeral Home Chapel. Burial will follow in Oakwood Cemetery. The family will visit with friends on Wednesday 2 to 3 p.m. at the funeral home.
In lieu of flowers, please make donations to the Arthritis National Research Foundation, www.curearthritis.org 19200 Von Karmen Ave., Suite 350, Irvine, CA 92612 and Cooking for Christ, 168 Saddlewood Lane, Statesville, NC 28625. Online condolences may be made to the family at www.troutmanfuneralhome.com
Troutman Funeral Home is serving the family.