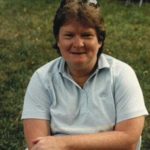 Diane White Crymes, 75, of Mooresville, N.C., passed away on Saturday, March 14, 2020, at her home.
She was born on October 20, 1944 in Tallahassee, Fla., to the late Jefferson and Maxine Delk White. Mrs. Crymes spent the majority of her childhood in Albany, Ga., where she was an A student and active in the Girl Scouts. She received her master's degree in Education from the University of Georgia. Diane was a passionate wife, mother and teacher and beloved by her husband, children, grandchildren, friends and students. She taught fifth grade in Mooresville for so long that she became an honorary fifth-grader. She was kind, loving, forgiving and jovial. Mrs. Crymes was a member of First Presbyterian Church in Mooresville. She loved music and knew the lyrics to every song.
In addition to her parents, she was preceded in death by a son, Whitney Chupp Crymes.
She is survived by her husband, Ernest "Ernie" Crymes; children, Melissa Wright and husband Danny, and Blake Crymes and wife Kelli; and her beloved grandchildren, Whit, Addie, Davis, and Jake. She is also survived by so many dear friends that have lifted her up for so many years. She was loved and will be missed.
A graveside service will be held at 2 p.m. on Monday, March 16, at Glenwood Memorial Park, Mooresville, with Rev. Jason Sentas officiating. A Memorial service will be held at a later date.
Memorials may be made to the Boy and Girl Scout Troop at First Presbyterian Church, 249 West McLelland Ave, Mooresville, NC 28115.
Cavin-Cook Funeral Home & Crematory, Mooresville, is serving the Crymes family. Condolences may be made to the family at www.cavin-cook.com.