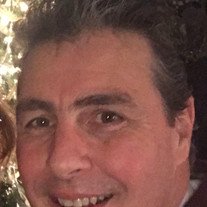 Scott Allen Heidlebaugh, 57, of Mooresville, N.C., passed away on Monday, December 14, 2020, at his residence. He was born on June 20, 1963, to Thomas and Margaret (Parkins) Heidlebaugh.
He married Rachelle Hartman on April 13, 2006, and she survives along with his daughter, Heather (Nic) Corbin, also of Mooresville, N.C. Scott is also survived by two grandchildren, Ellani "Bella" and Conner Corbin; father, Thomas A. Heidlebaugh of Findlay; sister, Pam (Frederick) Buskey of Cullowhee, N.C.; brothers, Steve Heidlebaugh of Findlay, Shawn (Heather) Heidlebaugh of Estero, Fla.; and his Swedish sister, Linda Johnsson Warenius of Sweden; and numerous aunts, uncles, cousins, nieces and nephews.
He was preceded in death by his mother, Margaret Heidlebaugh; and grandparents, Gordon and Winona Heidlebaugh and Luther and Dortha Parkins.
Scott lived his life fully, taking advantage of any moment to travel, see the world, and visit with others to gain or share new perspectives on life. He made friends everywhere he went. He was often heard saying, "I've never met a stranger."
Scott was a 1981 McComb High School graduate. He graduated from The Ohio State University in Business Administration in 1986. He lived in Maui, Hawaii, where he became a PADI Scuba Instructor in 1990. He continued his travels, backpacking extensively throughout Turkey and Europe from 1991, settling in Budapest, Hungary, until December 1993, working to help the people emerge from oppressive Communism, and then returned to Ohio in 1993.
Scott was diagnosed with ALS-Amyotrophic Lateral Sclerosis or Lou Gehrig's Disease in July 2018. He battled ALS for three years and beat the odds, enjoying two years beyond the doctors' original prognosis. Scott believed, "If you think you have gone as far as you can … GO FARTHER." He exemplified this in his battle with ALS, as he was always positive, always had a smile on his face, and was thankful for his blessings.
Scott accepted his Savior Jesus Christ in 1978 with the McComb Presbyterian youth group. In all his travels, and though sometimes lost, Jesus never left him nor forsook him. He is thankful for the influences of so many who helped him on his spiritual journey to Jesus. He loves Jesus and was a light to the world.
Scott was the Executive Director of Global Development for BargerTech. Scott spent his last seven years dedicated to providing food, energy, and water for those in need around the world.
Scott was deeply involved in the lives of his wife, brothers, sisters, daughter, nieces, nephews, and cousins, and made a profound impact in helping to shape them as individuals. Most importantly, Scott led and introduced many family and friends to Jesus Christ his Lord and Savior!
Scott is singing and dancing in heaven right now. One of his final wishes was for us all to remember him with the laughter and joy he shared so infectiously. He asks for no tears, but instead joy, as he is where he has wanted to be.
Due to COVID-19 precautions and safety for others, a private Celebration of Life for Scott for immediate family only will be held Saturday, December 19, at Cornerstone Baptist Church in Findlay, Ohio. The service will be live streaming a slide show of Scott beginning at 10 a.m. with the service starting at 11 a.m. at the following links, for others who love Scott and want to be with the family virtually: https://m.facebook.com/findlaycornerstone or https://youtube.com/c/CornerstoneBaptistTV.
Burial will follow in Benton Ridge Cemetery, Benton Ridge, Ohio.
Memorials can be made in Scott's name to Alexa R. Good ALS Foundation, www.alexargoodals.com and Mary Beth Benison Foundation Inc., www.mbbloves.org.
Cavin-Cook Funeral Home, Mooresville, is serving the family.